Hi Guys. Welcome here. If you saw the last post  you know that I was on  a roadtrip with 5 friends.
We left in direction of Ilha Grande (which means "Big Island")
How to go to the  Ilha Grande?
It was a beautiful day and we covered the distance between Paraty and the Ilha Grande faster than expected (and probably allowed).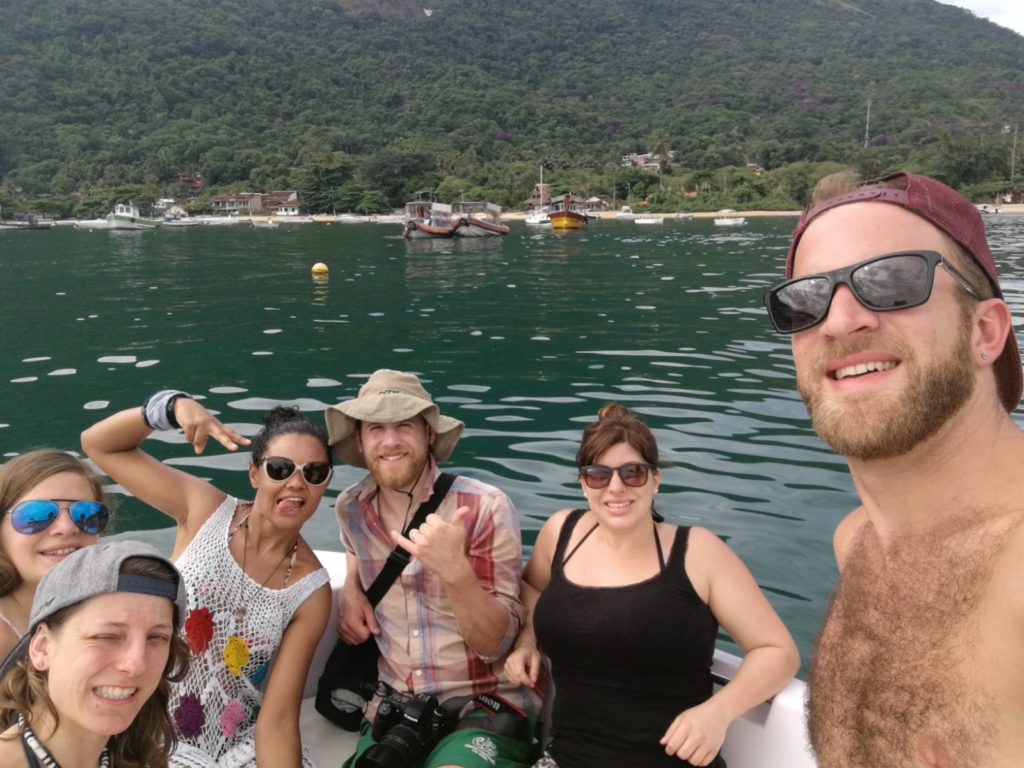 We stopped in "Conceição do Jacareí" and parked our car at "estacionamento do cais" which is the last parking in front of the port.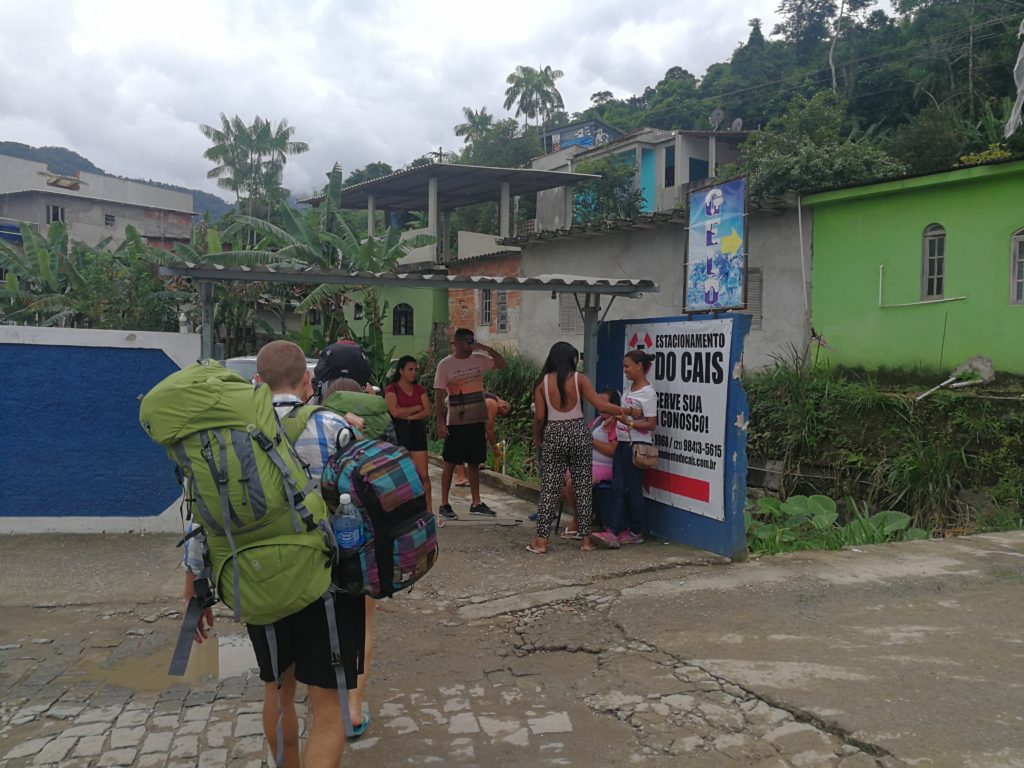 The daily price is 20 Reais. Right at that parking lot, we already bought our boat ticket to the island.
You can choose between the slow option – 50 min. and 50 reais for a return journey, or the fast option – 15 min. and 80 reais for a return journey (per person).
We arrived at "Abraão", which is the biggest village on the island. (It´s still very small, and that´s good!) After spending some time under the hot sun, looking for a free accommodation, we finally found the "Pousada Aconchego".
It´s a little inn not far from the center but still in a quiet neighbourhood. Each couple paid 150 reais including breakfast.
Trail do Waterfall and Beach "Feiticeira"
Since we were good in the time and the weather also maintained good, we decided to undertake a small hike right away. The way led us in about 45 minutes to the waterfall "cachoeira da feiticeira" where we made an intermediate stop. From there we then walked in another 20 minutes to the beach with the same name "praia da feiticeira". The waterfall and the beach where you can snorkel are highly recommended.
As always: Bring good shoes, water and in this case a snorkel with you (and for those who can´t live without it also a selfie-stick..)
From the beach, we took a taxi boat back to "Abraão" which costs you 20 reais per person. There we enjoyed the evening, ate good stuff like "Açaí", "Tapioca" and drunk of course some "Caipirinhas" (3 for 20 reais which makes it hard to stopp..)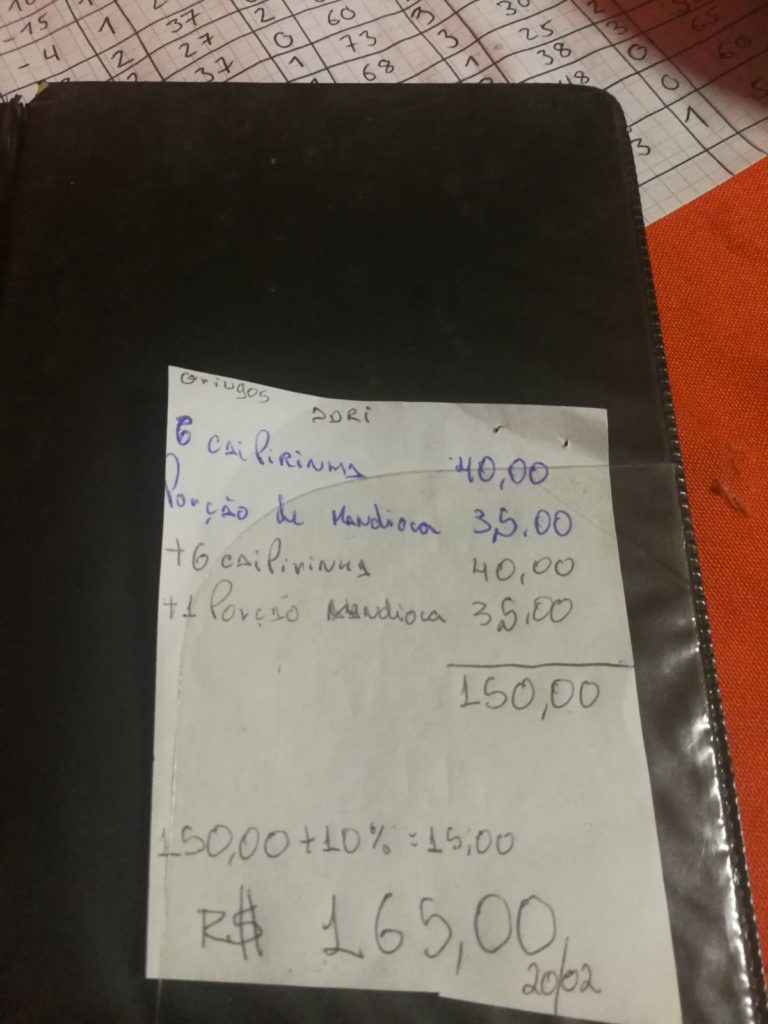 At one restaurant, a guide offered us a boat-trip tailored to our needs for the whole next day. It was a good deal, though a little expensive. Nevertheless we agreed to the offer, because we wanted to start the next day earlier than the normal boat trips which, as you can see later, paid off in the end. (Normal one-day boat trips costs you between 150 and 180 reais).
Suddenly the light went out and the whole island lost it´s electricity. Sounds scarry – it´s a normal day on Ilha Grande.. Since the electricity generator and therefore also the air conditioning of our accommodation did not work, we had the pleasure to spend a humid hot tropical night. You have to experience that too.
Our Privat Tour
At 08:30am our boat trip began with my five gringo-friends, me and the driver – what else do you want? We decided which places we wanted to visit and the driver drove exactely to them.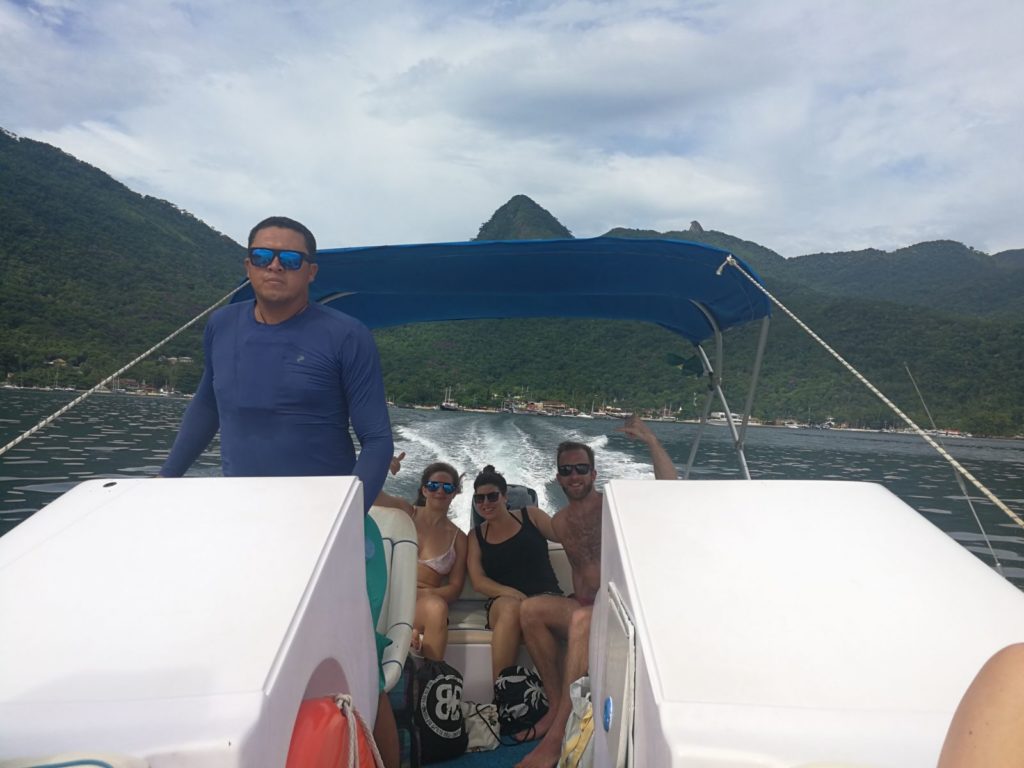 We first visited "Praia do Cachadaço" which is a hidden small bay at the south of the island.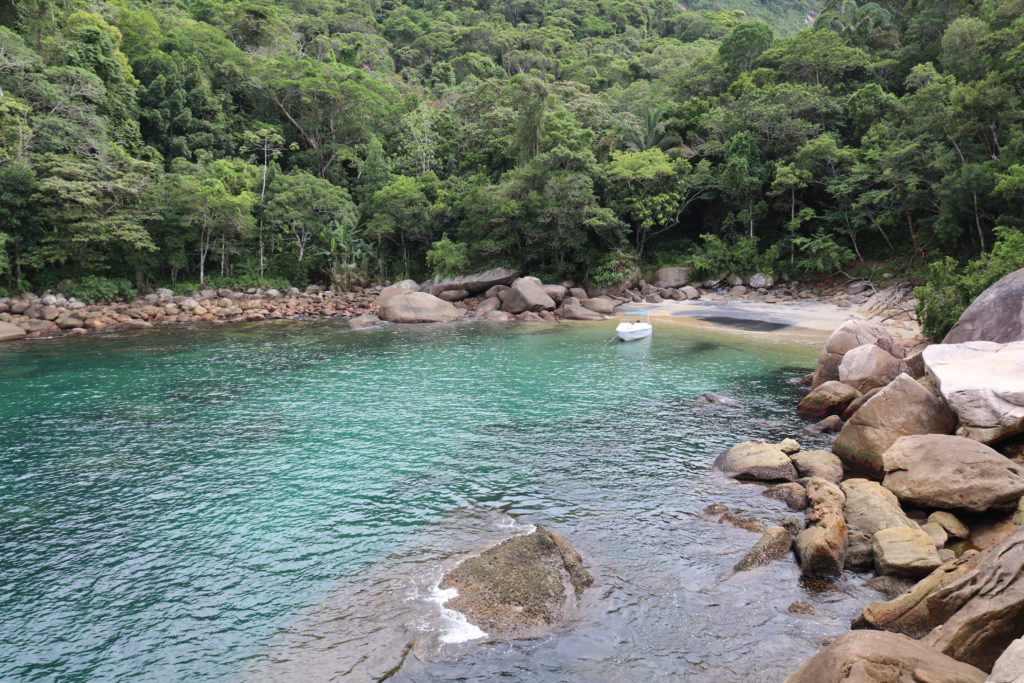 After that "Praia dos Aventureiros" – known for the fallen but still coconut-bearing palm tree.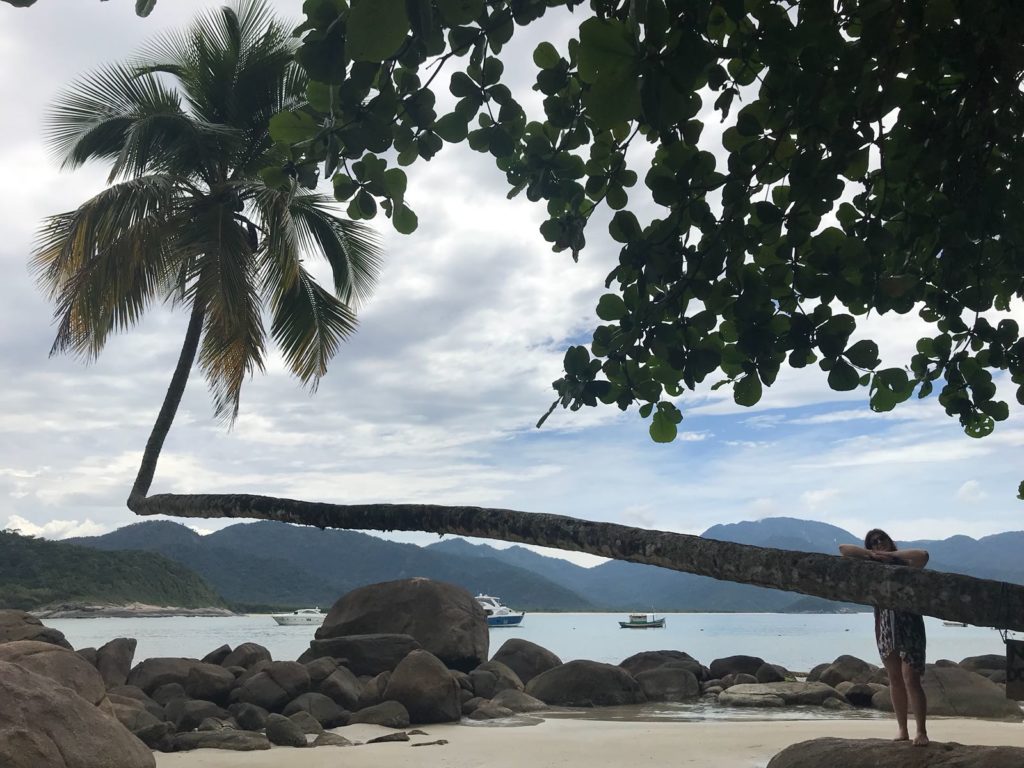 Our jouney continued to a place named "grutas". It´s a little paradise with some houses and in the past famous to do a dive from a cave into the ocean. Nowadays the tourist boats usually don´t pass there anymore and there is no one there to show you how the dive is done..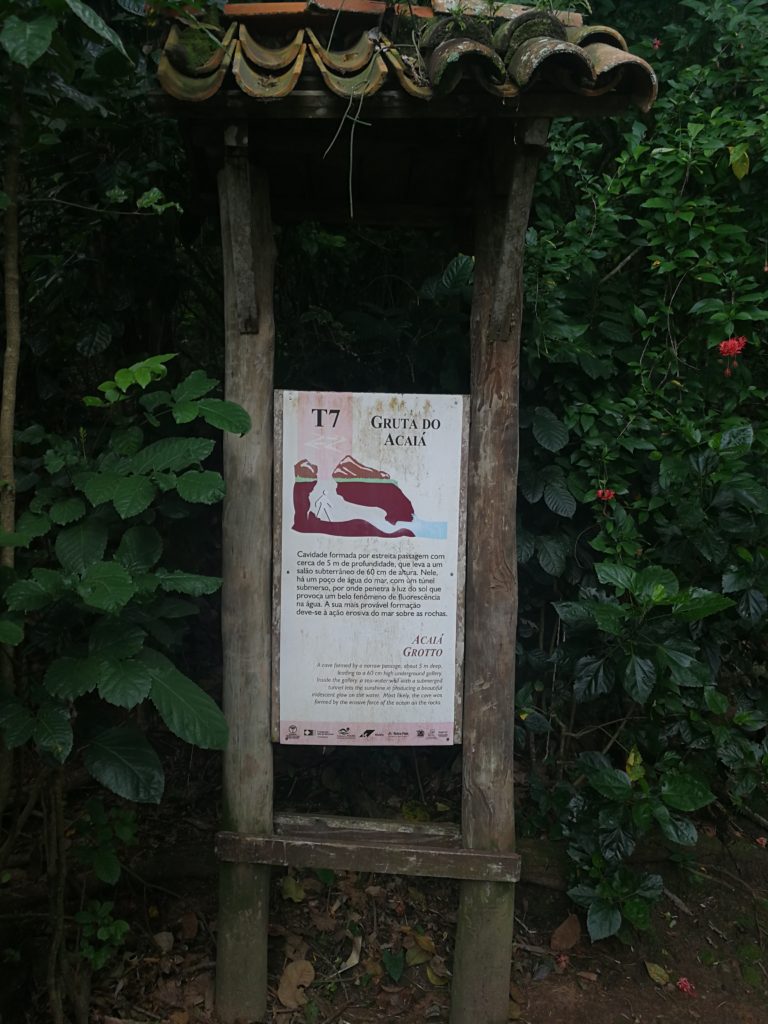 Neverthless the cave is still open for some life-tired people. As we were in holdays and not very life-tired, we went back to the boat .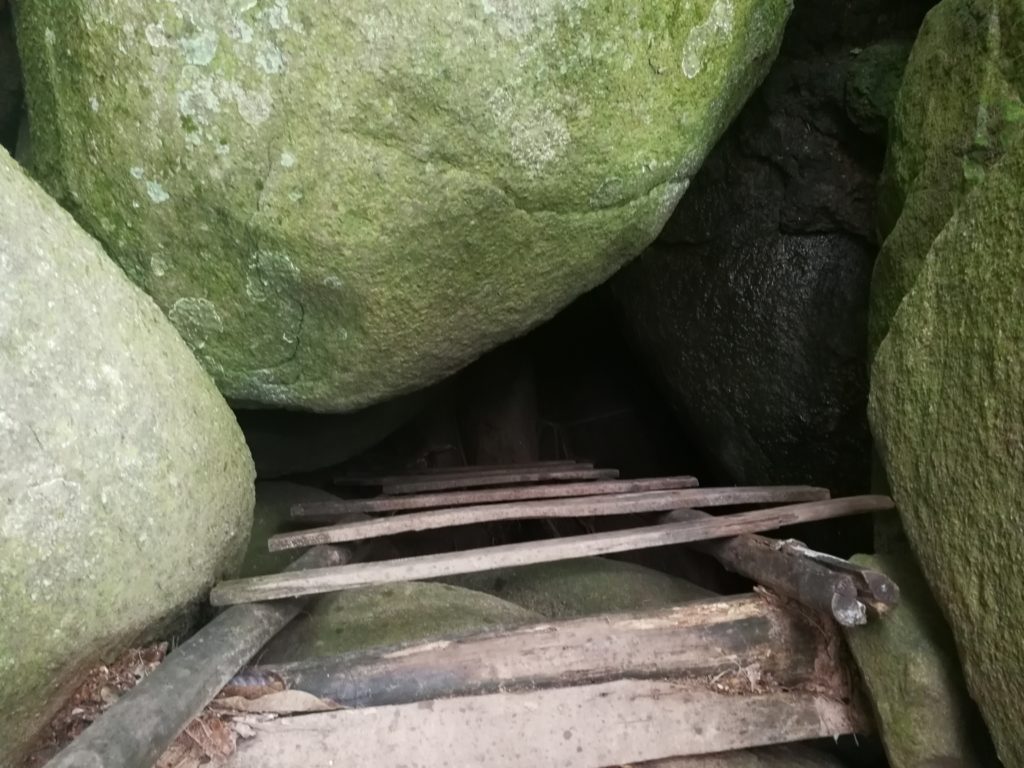 We drove to a place called "lagoa verde" (green lagoon). It´s a paradise to snorkel and watch the marine-life. There are many kinds of fishes and if you´re lucky you can also see a turtle.  After that we went to the "lagoa azul" (blue lagoon) which is another great place to snorkel. Unfortunately  began to rain, so we decided to ride back to Aabrão. Since we had started earlier in the morning, we were able to go back earlier without a guilty conscience.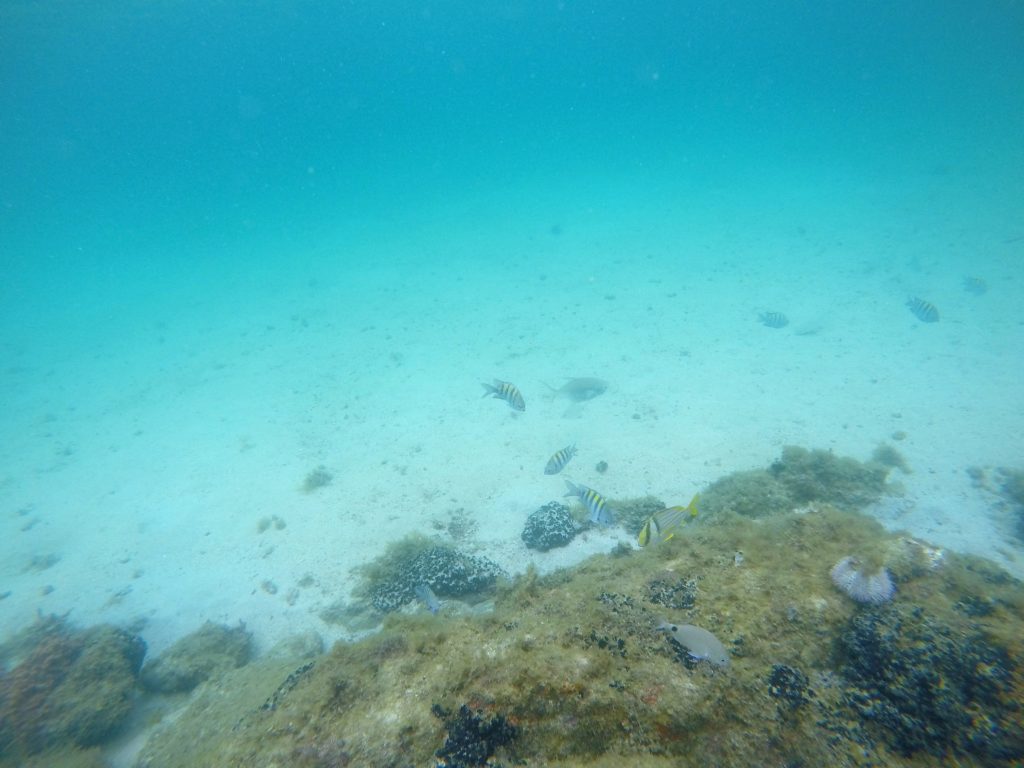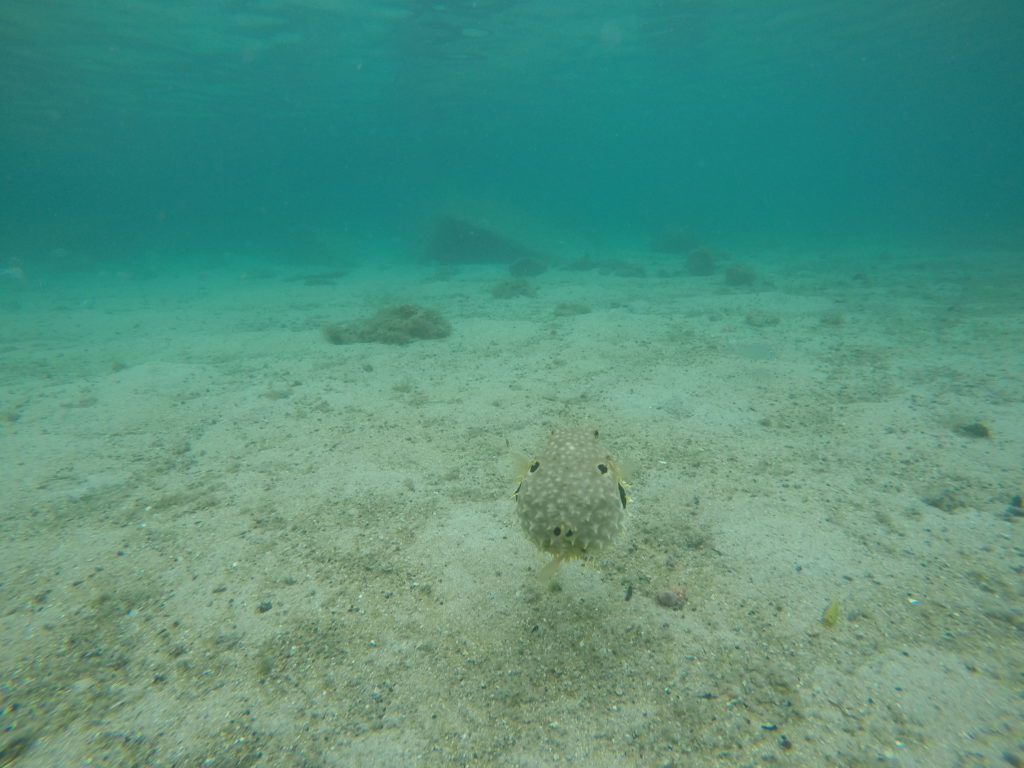 Unfortunately, a jellyfish bit me and half of my leg was burned. Good we took some ice with us to cool it down.
Trail to the Abraãozinho beach
The next day we took a short, nice path to a beach called "Abraãozinho". There is a short section where the path runs along the beach and even in the water at high tide, before flowing back into the jungle further ahead.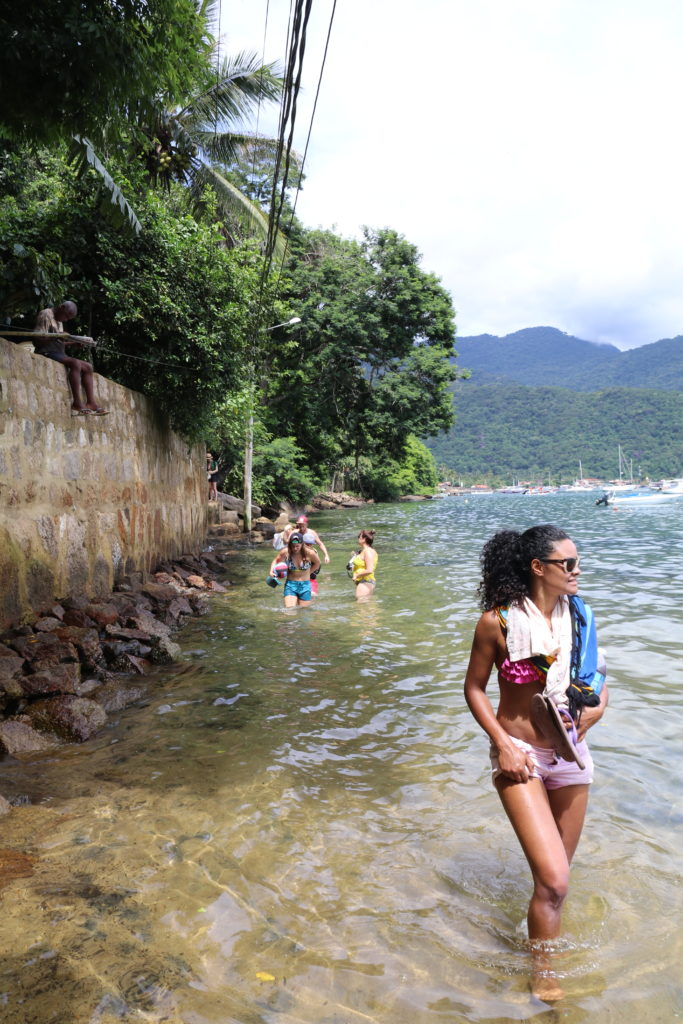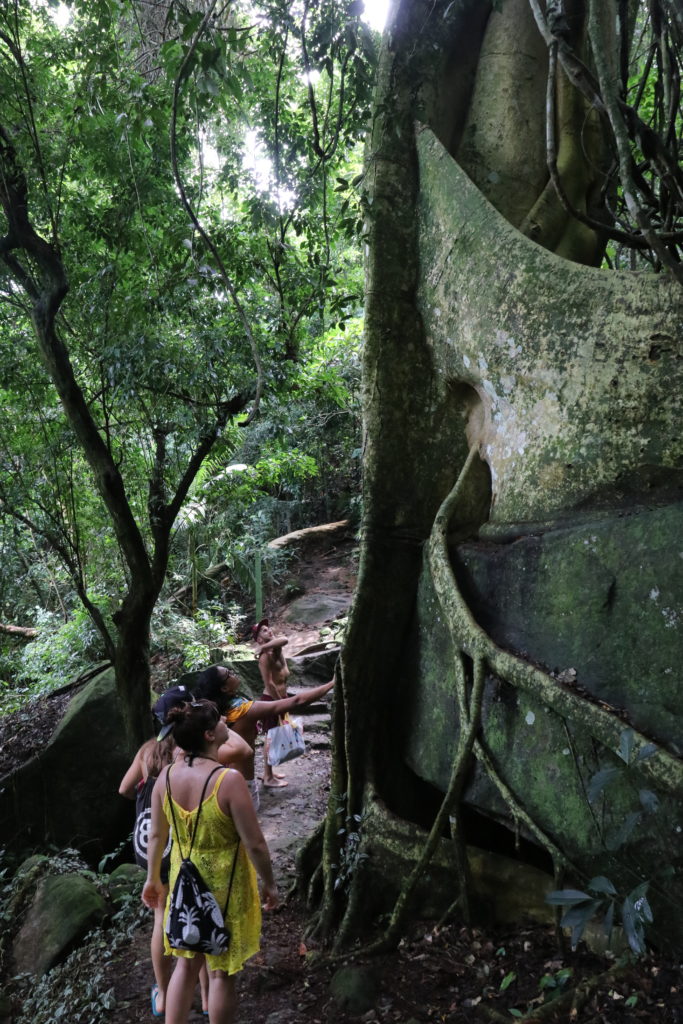 The beach "Abraãozinho" is a beauty, also not to bad for snorkeling. We saw fishes, a starfish and even a big sea-turtle! Our way back we did once more by taxi-boat which gave us a 20 reais discount.
Trail do Palmas Beach
The rain destroyed the daily plan to hike on the "pico do papagaio" – the second highest mountain of the island. The whole night a constant rain went over the island and the summit was covered with clouds in the morning. Too much risk to break a foot and don´t see anything at the top.This is the Pico do Papagaio:
But in Brazil you always need a plan B, and ours was to do a smaller hike to a beach called "Palmas". It takes you one hour more or less to get there and "Palmas" is a beach with a few accomodations and restaurants. No energy at night – and not only in the event of a power failure..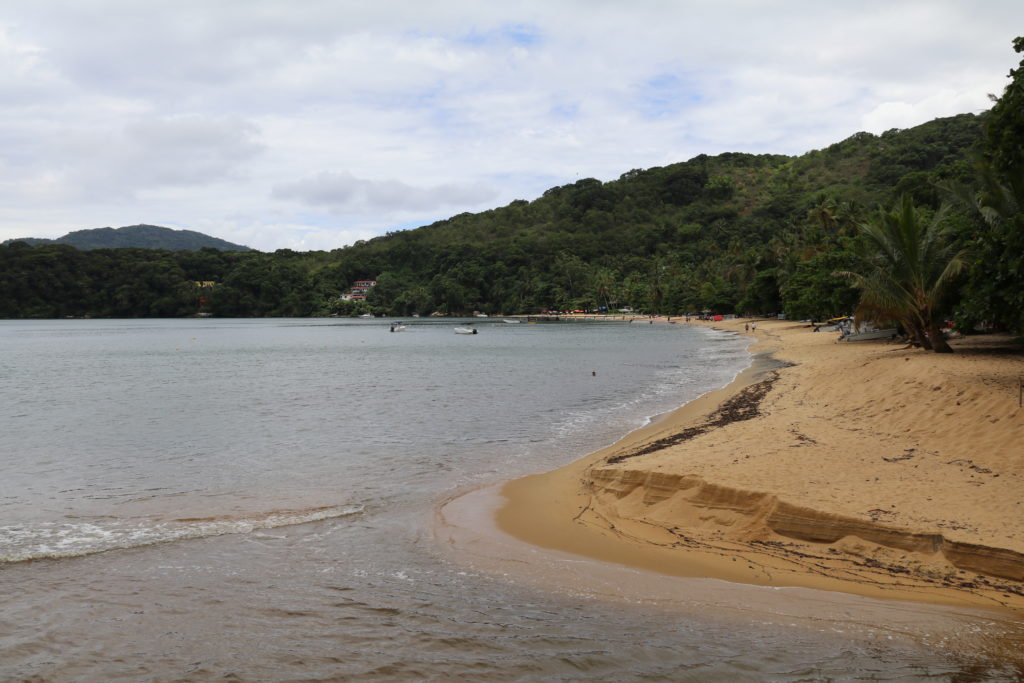 One little hint: don´t miss the hideous view-point in the middle of the trail. It´s just a little red and dirty path on the right side who leads you a little bit higher over the trees and clears the view to see the surroundings better.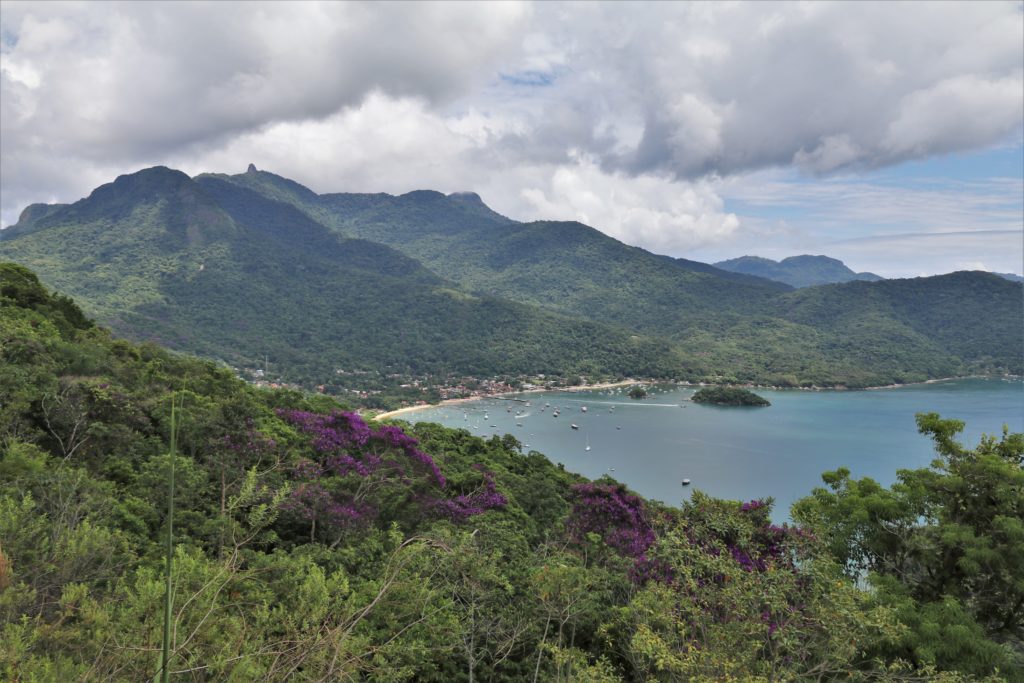 A lot of tourists pass there without knowing it, because there is no information at all. After the hike we were relaxing at the beach of "Palmas" until a guide offered us to bring us to the beach "Praia Lopes Mendes" – the most famous beach of "Ilha Grande" and one of the best beaches worldwide.
Lopes Mendes Beach
As the boats can´t enter to "Praia Lopes Mendes" due to the high waves and strong current, they let you out at a place called "Praia do Pouso". There you will find two beaches that are often overlooked by all the tourists who only want to go to "Praia Lopes Mendes", even if the bigger one is a really nice beach. In the middle of the two beaches is the path that leads you 900 meters trough forest to the famous "Praia Lopes Mendes"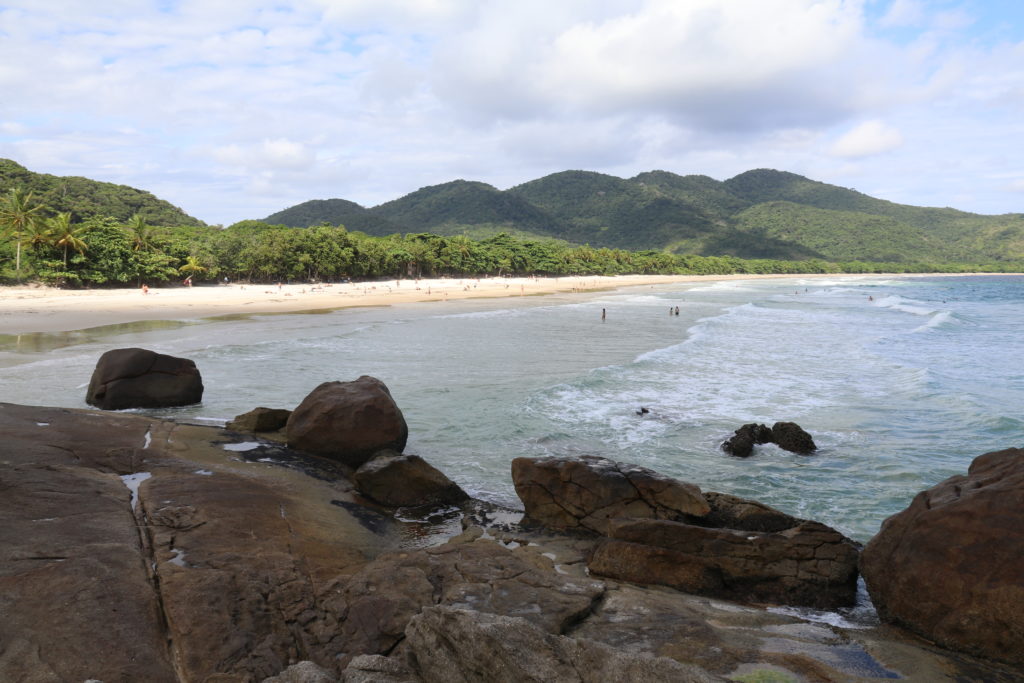 The path is beautiful and home from a "Sagui" (Monkey) family. But be aware: If it rains before you walk this path, be prepared for a little hell.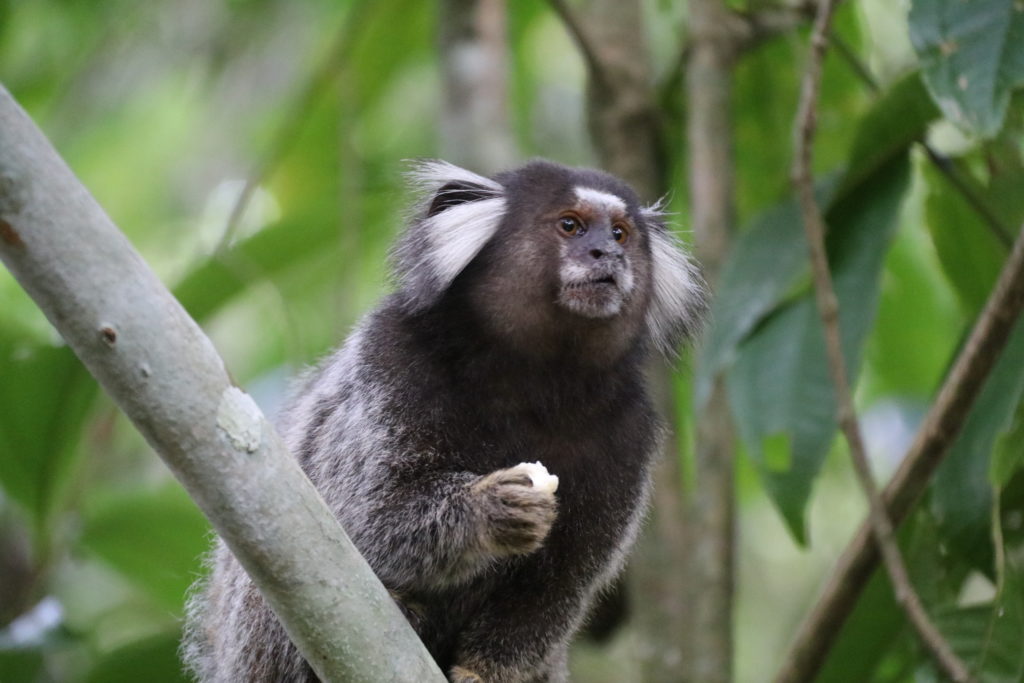 The ground get slippery and there are more mosquitos waiting for you than you would believe. Good for you to have us to warn you to take some good shoes and anti-moquito-spray with you – we weren´t warned at all and specially our legs reminded us even many days after about that nice walk in the woods.. Neverthless we enjoyed the really beautiful "Praia Lopes Mendes" for some hours. After a mental preparation we went through this little hell back to the taxi boat that brought us to Abraão.
Back to the mainland
After a wonderful time in my favorite place in Rio de Janeiro we had to say goodbye. With the same agency that we came, "Agência do Cais", we made our way back to "Conceição do Jacareí". There our car was waiting for us.
Our next destination was unclear, because we wanted to stop somewhere before Rio at an unknown place. There are many unknown places, some good and some not.
We were lucky and stopped at a place in "Mangaratiba" by the beach "Praia Grande". It´s a small, green and nice place not far away from Rio de Janeiro City.
There are just two accommodations (ok, let´s say one, the other one looked more like an unfinished building..). It´s a place where the most tourists are in fact fishermen which leave the beach in the afternoon. Very interesting is also the 24-hour rail freight line that separates the beach from the village. The train that goes from Rio to the big port on the "ilha Guaíba" further south is fully loaded with iron ore.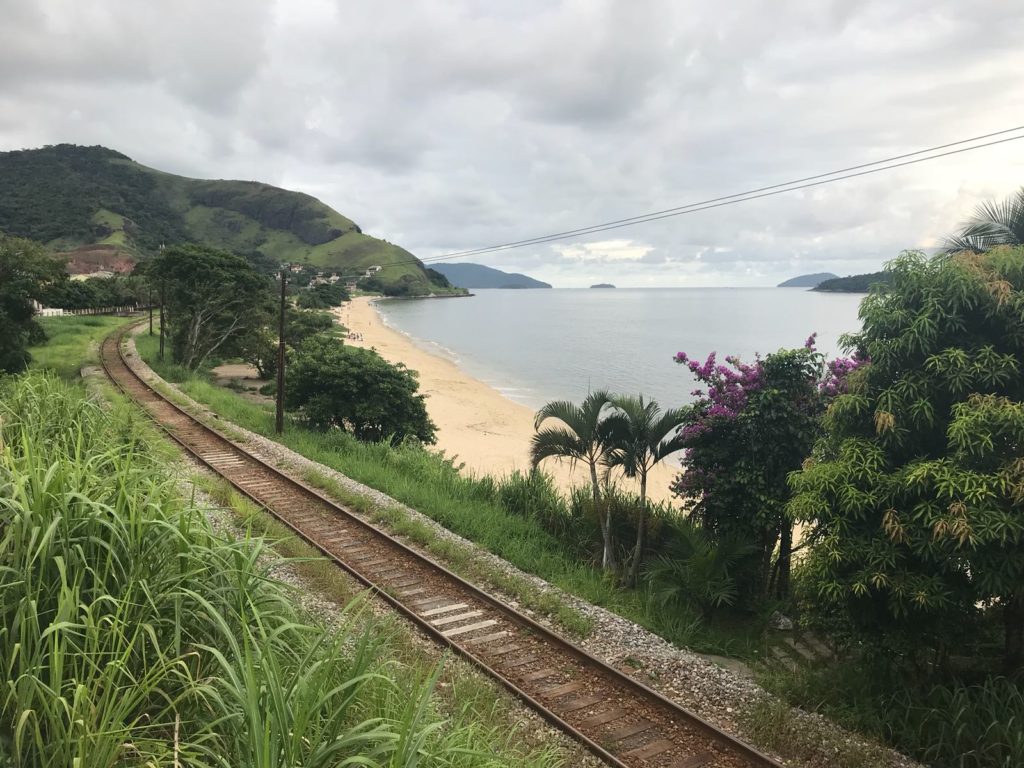 One thing that made me sad: The amount of trash on that beach. Without that, it would be a really nice and different beach I could recommend for any person. Residents claim that day tourists just leave their garbage lying around. A statement, which is probably true, because the village, as well as our accommodation were very clean. What a shame brazil..
Let´s now talk about something better, like our place where we stayed. It´s the "Pousada Telhado Azul" – a simple family-run inn with private rooms and a breakfast for 150 reais each person.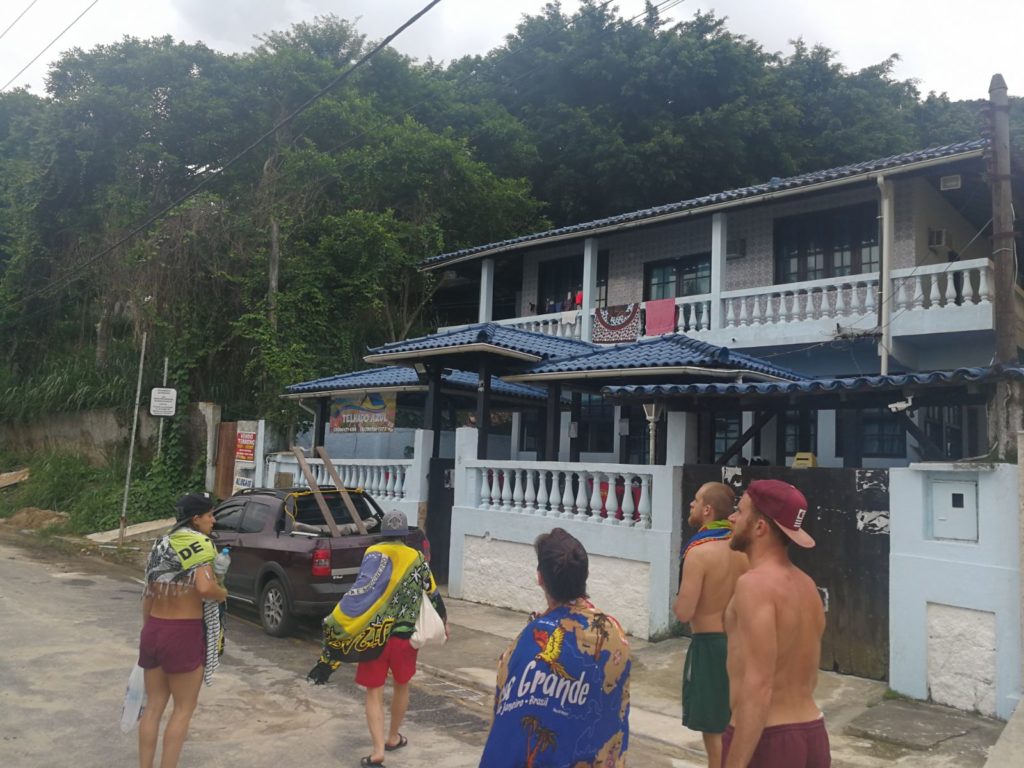 You will find it at the end of the village in a calm neighbourhood. The family is very friendly and warm-hearted – we really loved this place. For dinner it was better to go to the next bigger village "Muriqui" right next to "Praia Grande". There we ordered six full menues for 15 reais each in a "quiosque" right at the beach. As we we were once more the only gringos, we were observed a lot and many listened to our funny language – Swiss German. Due to another hard rain, we didn´t stay for long, and made our way back to our beds.
Here you can see our Film from this wonderful island: