Experience and get to know a region up close and at the same time practising sports – cycling makes it possible
Cycling in Switzerland
Cycling enjoys a high priority in Europe and is often practised in leisure time. Adventurous people on biking tours lasting several days and speed lovers on racing bicycles can be seen almost everywhere. Just think of the world famous bicycle race "Tour de France".
Cycling is also a popular sport in Switzerland, and not only to ride to school or to work. The Swiss bicycle network comprises 3,300 kilometres of long-distance routes and an additional 3,000 kilometres of regional cycle paths. All these routes are marked by red traffic signs showing the way for cyclists. In the meantime you can view a lot of tracks on the internet or download them as an app to your mobile phone. An incredible advance for all outdoor enthusiasts among you.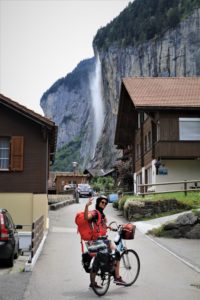 Cycling is not the same as cycling
When people think of bicycles, most people see the same picture. Here is a list of different bicycles on the market:
The city bike
The touring bike
The racing bike
The electric bike
The mountain bike
The BMX
…and more
So you can see that there is a suitable bicycle for almost every one of you.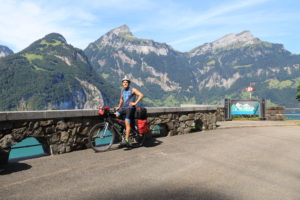 What equipment is needed to ride a bicycle?
First of all you need a bicycle 🙂
After that, the bike you have chosen will tell you what equipment you need for it. While on a mountain bike a closed helmet and back armour are advantageous, on a racing bike you need good cycling shorts and tight clothing. For a bike tour of several days on a touring bike you need side pockets and rain protection, whereas on a small city tour with an e-bike you would only need sunglasses, a sandwich and some water.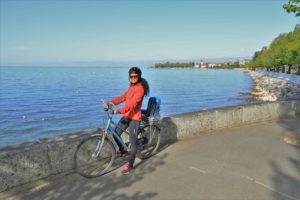 Bicycle tours for everyone
Since Switzerland consists mainly of mountains, cycling can be quite strenuous in this country. However, this also brings its advantages: The higher up, the more breathtaking the view. And the best thing about it is that sooner or later it will go down again – and that, ladies and gentlemen, is really fun! But also for the more leisurely among you there are a lot of beautiful routes to drive. For example in the region around Lake Constance, where you can even drive to Austria or Germany.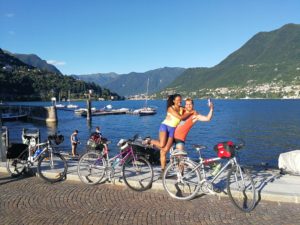 If you are looking for a varied sport with unbelievably many different possibilities, it is advisable to try cycling.
How much we love cycling, you will see in this video