Hiking – not only in summer an attractive outdoor sport
Hiking in winter – is that possible?
To give you the quick and obvious answer – yes it is 🙂 Hiking in winter is definitely a very underrated adventurous sport for young and old. It depends on the weather conditions if and where you can hike in winter. There are many places in Switzerland where there are specially made winter hiking trails. If you choose to come here in a weak winter with not so much of snow, you can even hike some of the normal summer trails. Winter hikes of a different kind, you can find on the SNOWSHOEING page.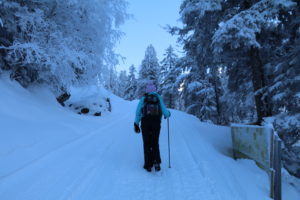 What do I need to go hiking in winter?
Hiking in winter mostly requires better planning than hiking in summer. This has to do mainly with the existing cold. Imagine you´re walking up a steep slope, maybe under the hot midday sun – probably you´re going to sweat. Now the difference to a summer hike is, that when you will arrive at the top to make a break, you can´t simply stay the way you are. You will freeze with your wet clothes on, so you have to change them quickly. For that you will need to bring fresh and warm clothes with you. It is also recommended to wear good, solid and above all warm shoes, because you can always hit icy surfaces even when there is no snow.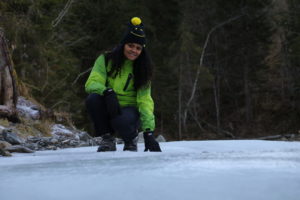 Try something new and combine a good portion of sport with fresh air and a great view over the Alps on a winter hike.