Hello everyone, this is the first post here on my blog about «Esterzinha no Brasil 2018».
If you came here through YouTube, watched the video and now want to know details of our adventure, this is what we are talking about on following post ?
The beginning of everything
We rented a Fiat Doblô at Guarulhos airport through Localiza (we needed a big car because we were 6 people plus 6 huge backpacks).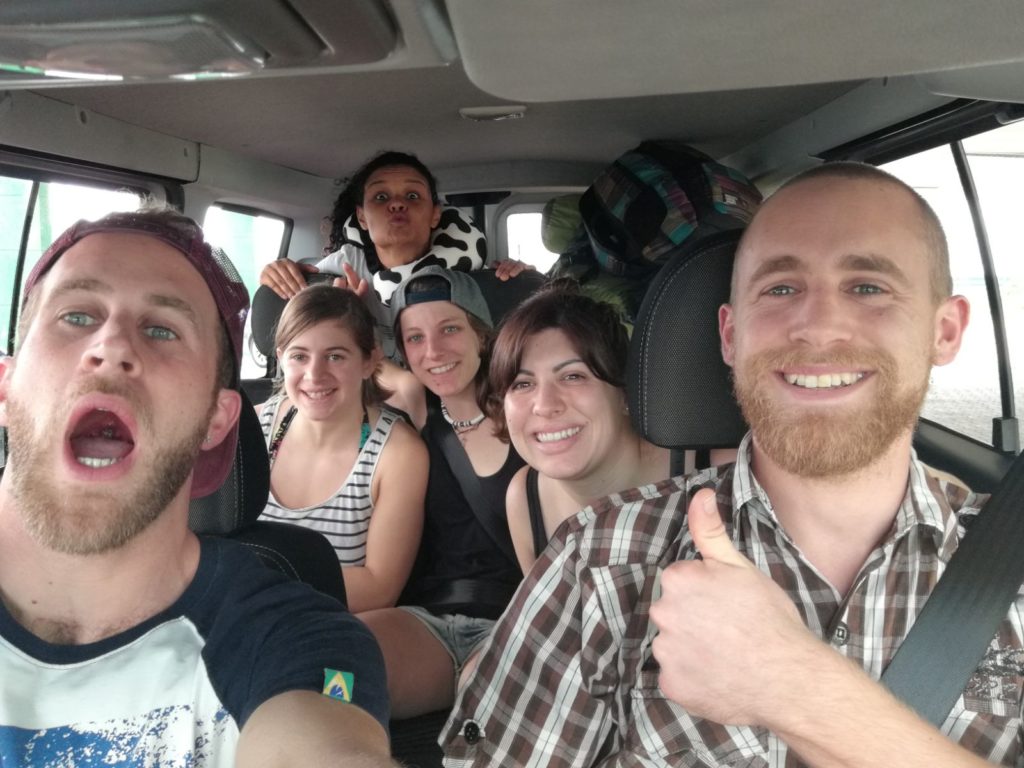 We were very happy with the choice of the car, it was perfect). We spent 10 days with the Doblô, costing 2,500 reais, taking it in Guarulhos Airport(SP) and returning it in Santos Dumont Airport (RJ).
If you travel with a lot of people, it makes sense to rent a car, as this way you can share the cost.
First stop – MARESIAS – north coast of São Paulo
We stayed in a super nice hostel, the «Maresias Hostel». It makes part of the "Hostelling International Group" present in several countries, including Switzerland.
It was the second time I stayed there and super recommend it, clean, cozy place, friendly staff, lots of greenery, pool, separate trash to recycle, nice breakfast and a super retro bar (feels like you have to stay there all the time) . We took a room for 6 people, with 6 beds and a private bathroom for 50 Reais per person per day.
We were not lucky with the weather, it rained and the sun did not appear at all.
What to do in Maresias when the weather isn´t good?
There is something wonderful to do: HIKING. Without sun and little rain, you have a great opportunity to explore Maresias by hiking. Be well prepared to do trails on rainy days as wetland requires double attention from the tracks, and of course, good footwear is essential for your safety.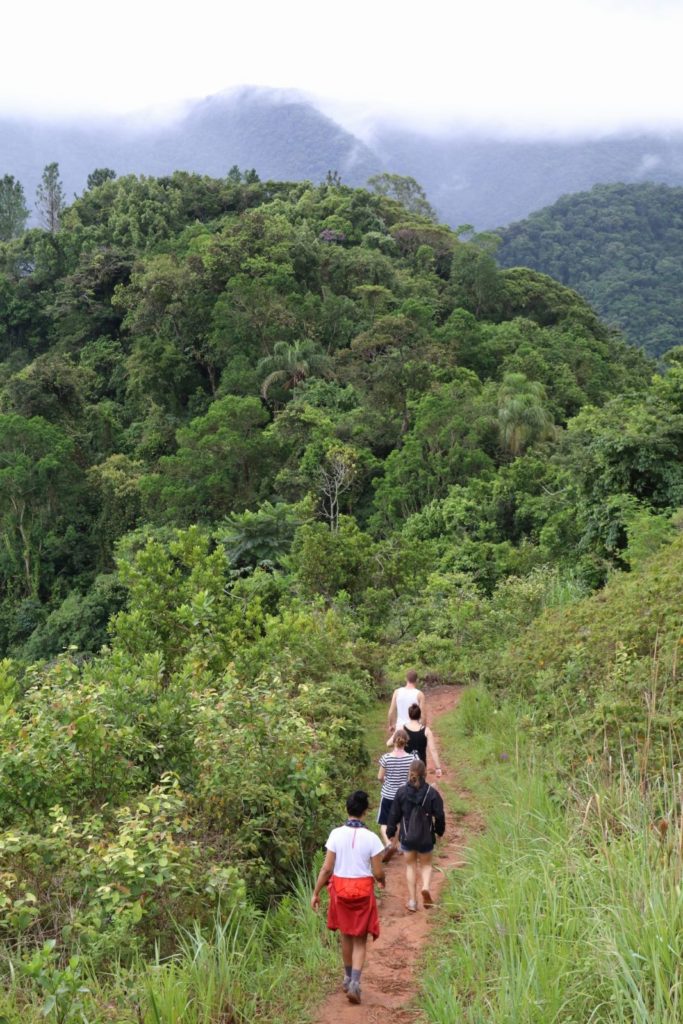 We have taken the trail to Paúbas – It is a trail with a low difficulty level, which can be done in 30 to 40 minutes. This trail leads to the beach of Paúbas, but we went further to know the region and to have a beautiful view from the top.
How do you access this trail?
In Maresias, follow the Avenida Francisco Loup until the bridge. Cross it and enter into the dirty street named Rua das Gaivotas. You will arrive at a kind of private entrance, but don´t worry. You can enter, because the trail begins exactly there. Then just follow the signs and venture out. It is well worth doing this trail because you have a privileged view of the region.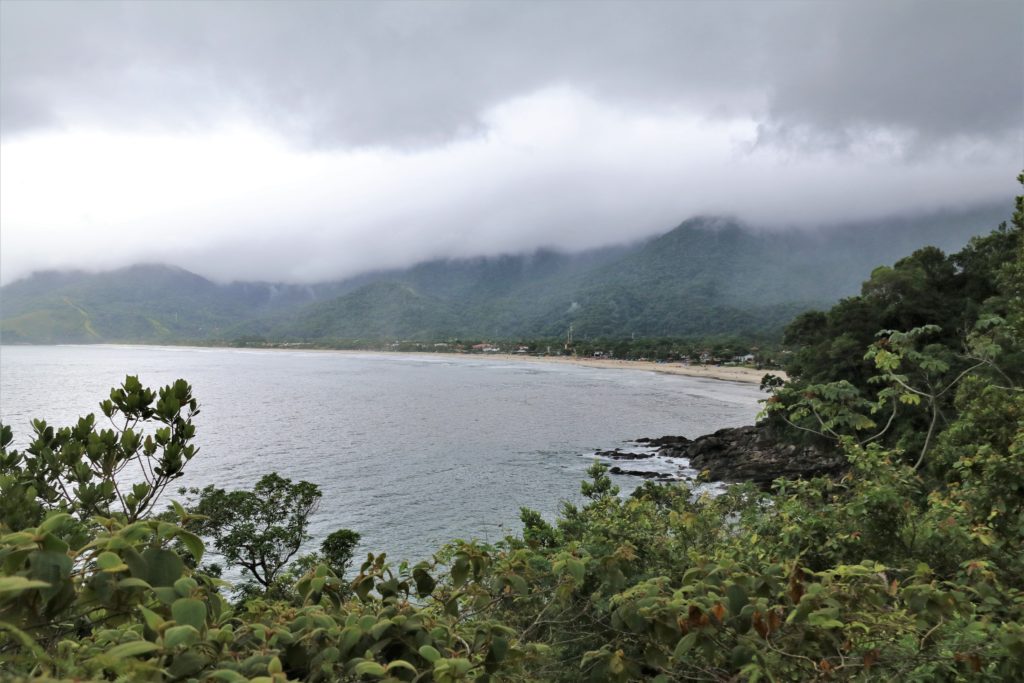 To return to Maresias, there are inter-city bus routes or do as we do, go back the same way and enjoy everything again, only now down ?
Time to leave Maresias
We were a little disappointed by the weather because we wanted sun and beach, since we were actually in Brazil. We started from Maresias towards Paraty – Rio de Janeiro. Suddenly on the road the heaven opend and the sun appeard.
We noticed a beautiful beach along the road (Peque Peque Grande Beach) and decided to stop for some fun, after all we did not want to stay in the car watching the sun shine outside.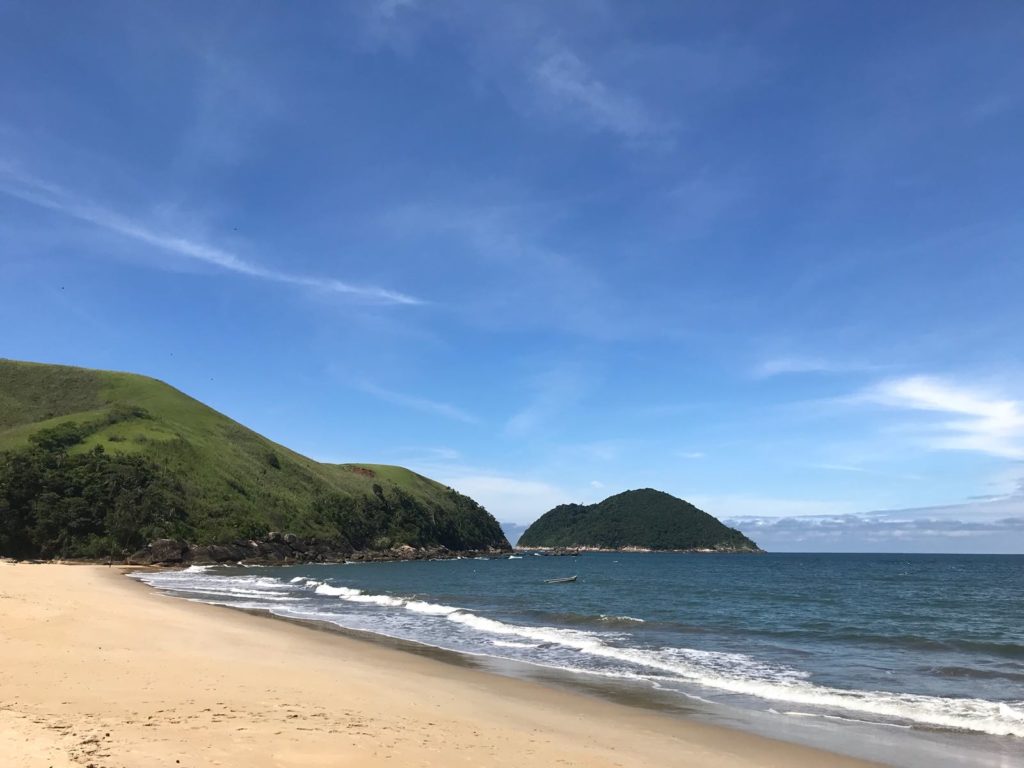 What's so special about "Peque Peque Grande" Beach?
I got to realize that it must be a beach more for locals, there were not many tourists there. The beach is beautiful, clean and surrounded by green. Just perfect.
Coming back on the road and arriving in Paraty
We arrived in the evening in Paraty, and we stayed in Pontal in a Pousada in front of the beach – «Pousada Refron du Mar». This time each couple stayed in a private room with bathroom, refrigerator, air conditioning and breakfast for 150 reais per day.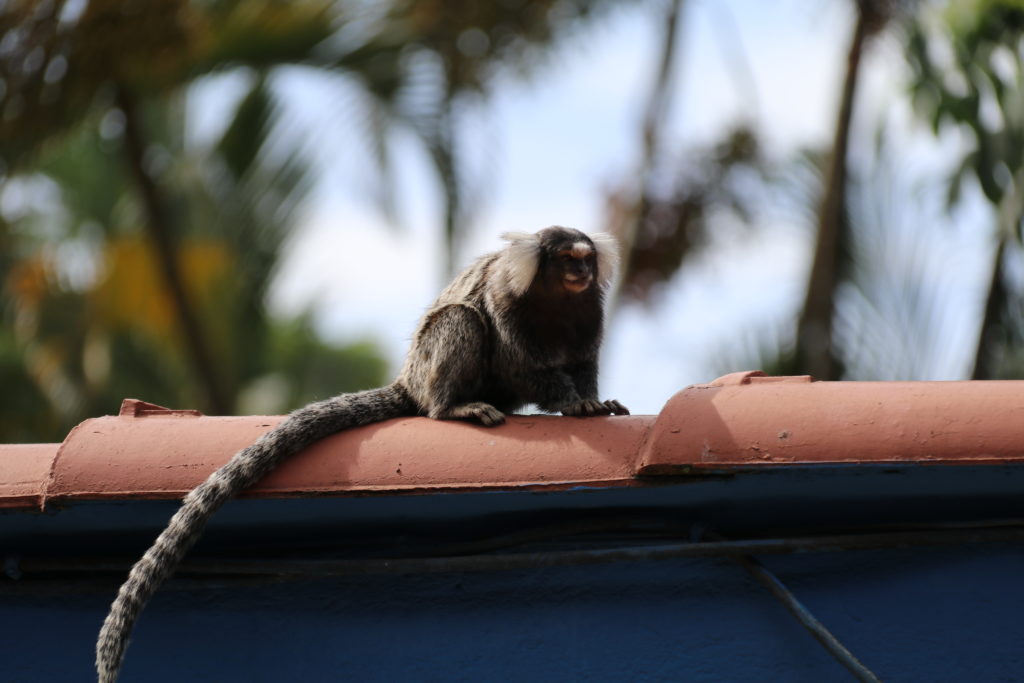 The Pousada is super cozy, with a delicious breakfast, and it has a nice and attentive stuff. The beach is 10 meters ahead of you, and the monkeys (saguis) come to visit you in the morning, because they also want to eat breakfast ?
Cachaçaria Pedra Branca
Paraty is also very famous for its cachaçarias (brewery for sugarcane brandies). We visited the brewery named "Pedra Branca". The visitor arrives and is taken to know the whole process of cachaça, from the beginning to the bottling of it. At the end of the tour, there is a demonstration of all the cachaças and each visitor can try.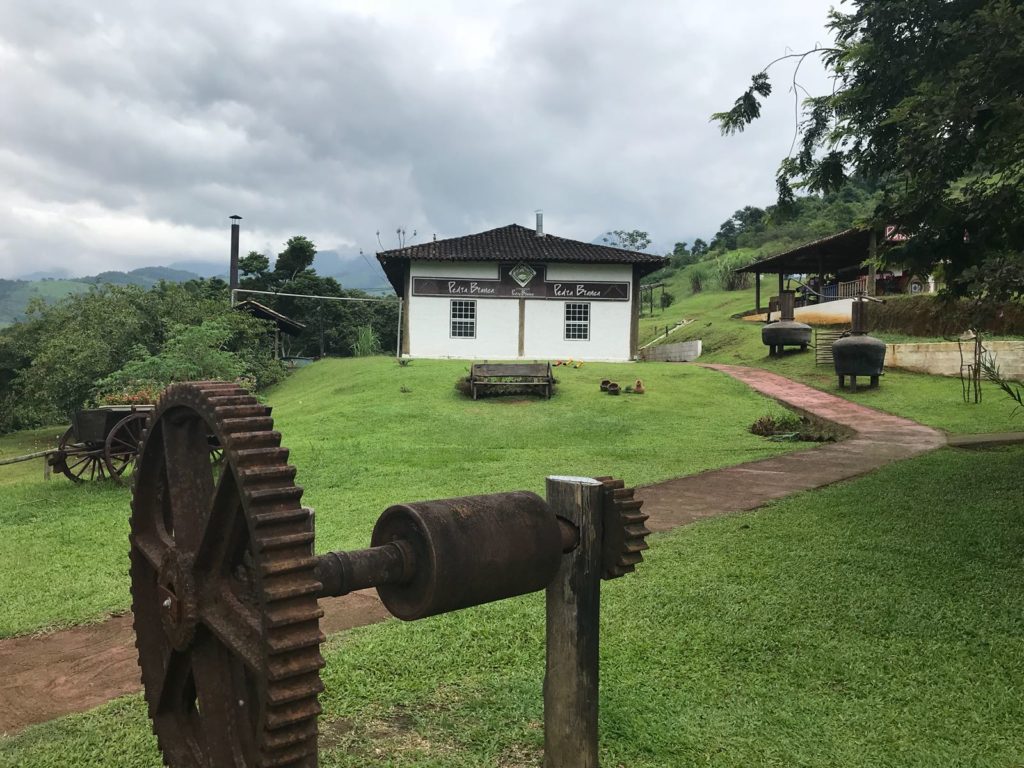 They have a shop with a lot of good stuff, mostly Cachaças of course, and the most diverse ones possible. However, you can buy other things like coconut / passion fruit milk, "cocadas", ornaments, souvenirs and more.
There are companies that make tours to this cachaçaria, but if you are by car, of course you should choose to go on your own after all it is very easy to find it – just follow the signs ?
Trindade Beach
Trindade is one of those places that was made for you to slow down, you know? Quiet, even with the absurd number of tourists, you get into the magic of the place.
Restaurants are usually reasonably priced and you eat very well.
For you to see that it is not only the place, but also the people that make Trindade a better place, here´s a little story: On our way back to Paraty, we gave a ride to a woman (who has a bar in at the beach). The bus did not pass and she was all worried about her little daughter, because she had to pick her up at school. This woman was so happy with the ride that she asked us if she could pray for us in the car. Imagine how we got back to Maresias? Extremely happy.
Trail to "Praia do Sono"- Beach
Take this trail, please?? It is soooo good
Let's go to the information:
If you are in Paraty, go to Trindade and there are signs for Praia do Sono.
It is necessary to cross a private street (the Laranjeiras). Just say that you want to do the Praia do Sono trail. Take the road always straight ahead, do not stop at other parking lots. You will arrive at a pretty little square, with a bus stop in front. THIS IS THE END OF THE CAR PATH. You need to stop at this square, leave the car in the parking lot "on the street".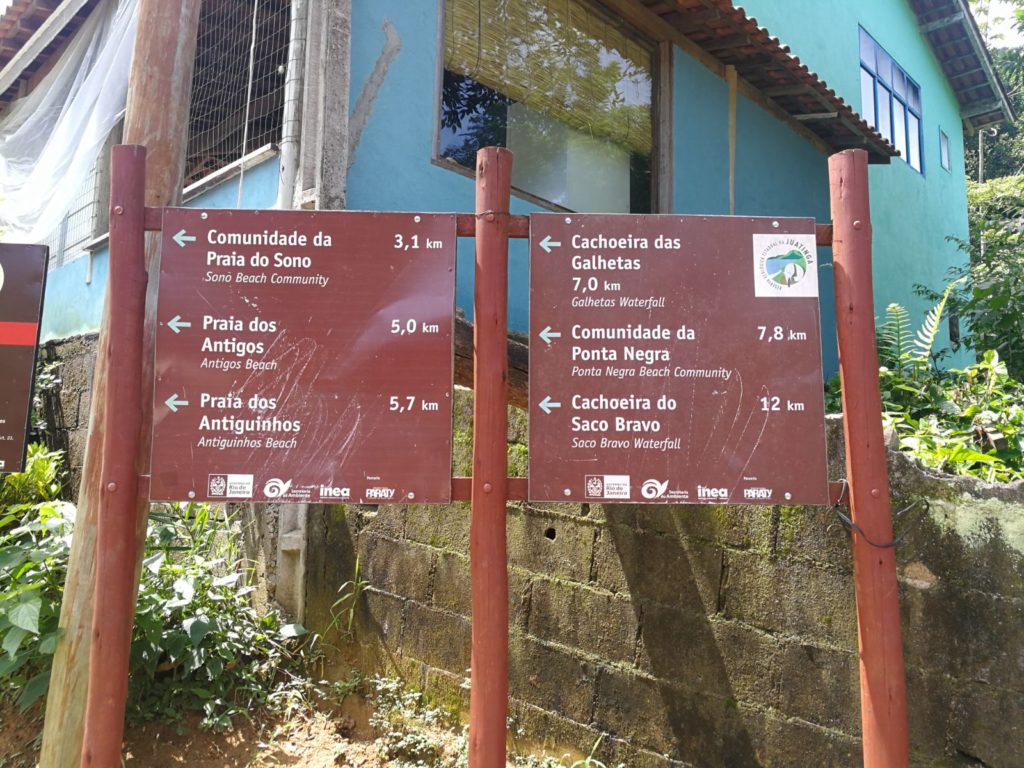 There is no official parking, the cars are parked on the street, but people who live there take care for 20 reais a day. It is a very simple community, but friendly. Most are old people who stay on the bank of the square talking and "work" for you. It was perfect, and on the return, everything was like we left it.
The trail
The trail to the Praia do Sono-beach is very beautiful. We found wonderful sights along the way which are huge trees or a lot of butterflies. On the way there are many rocks and descents. Go prepared, with good shoes, cause it is essential to arrive successful at the beach.
The Praia do Sono – Sleeping Beach
The beach is a spectacle with very clean water and good waves. There are some huge and beautiful stones that further decorate the place.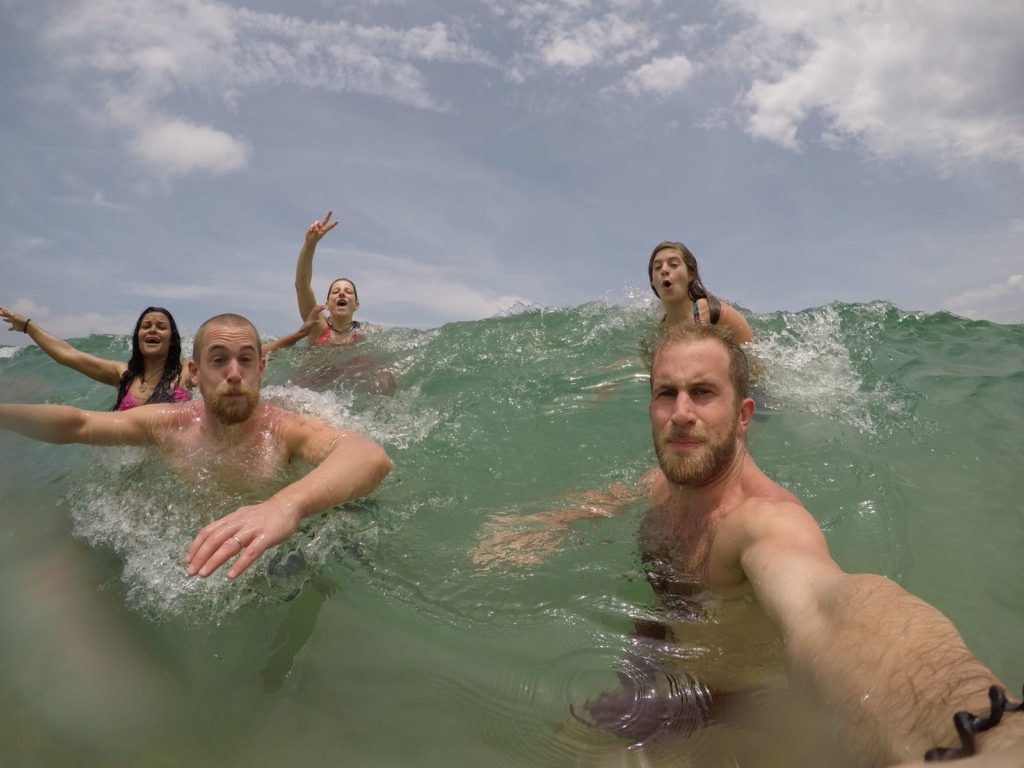 As it was on a Monday, there wasn´t anybody selling food or drink, but as we are good hikers, we took something to eat and drink with us.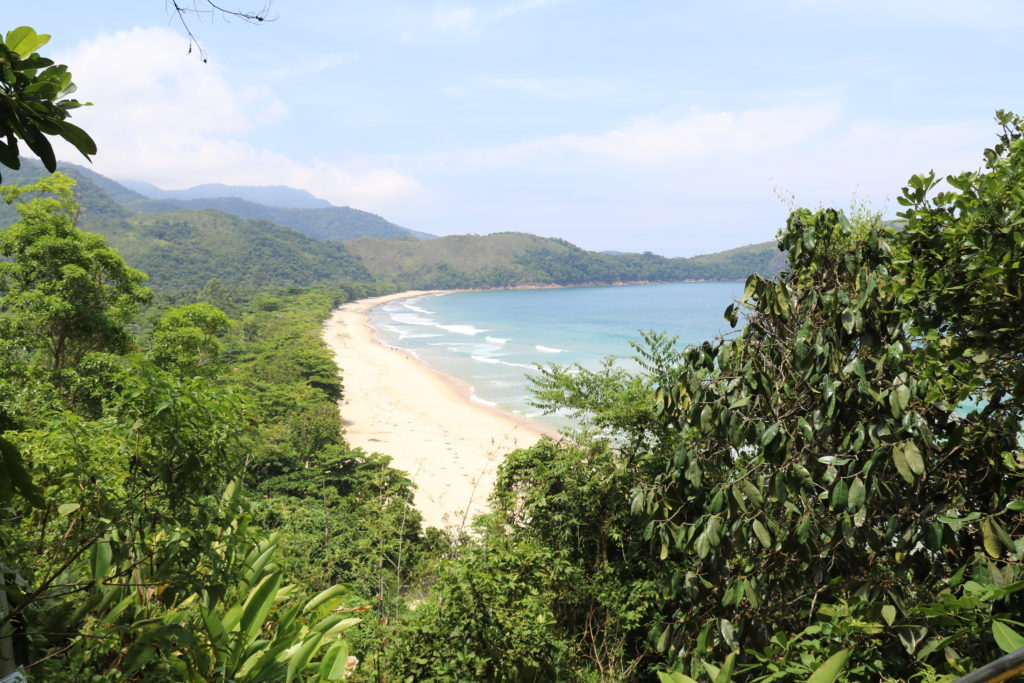 Cachoeira do Tobogã – Waterfall Toboggan
YES, you'll slide down a waterfall. But calm, it will be easy and exciting. There are cool guys there who help you and you pay how much you want. They are real "waterfall-surfers" and slide down on their feet… impressing… they are friendly and know the area very well.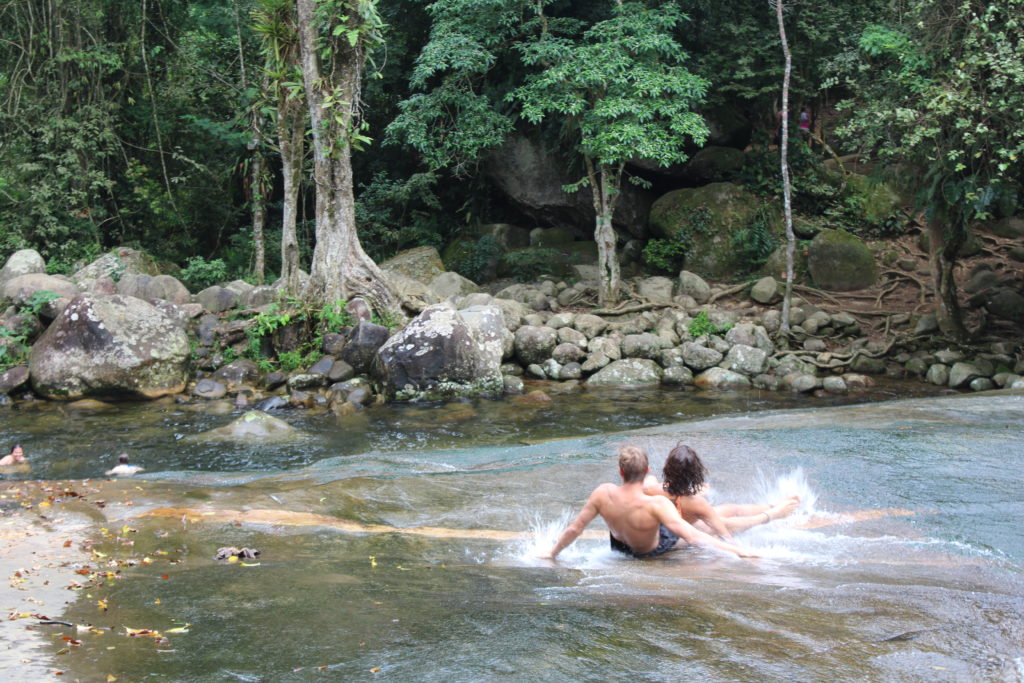 In addition to the descent, there is also a waterfall above where you can enter, it works almost like a cave, where you stay behind the water (bring your camera, it's cool).
Another attraction for adventurers is, to jump down a huge rock. To access it, you have to walk along the river against the current, then find a wooden bridge, where you can shoot nice pictures.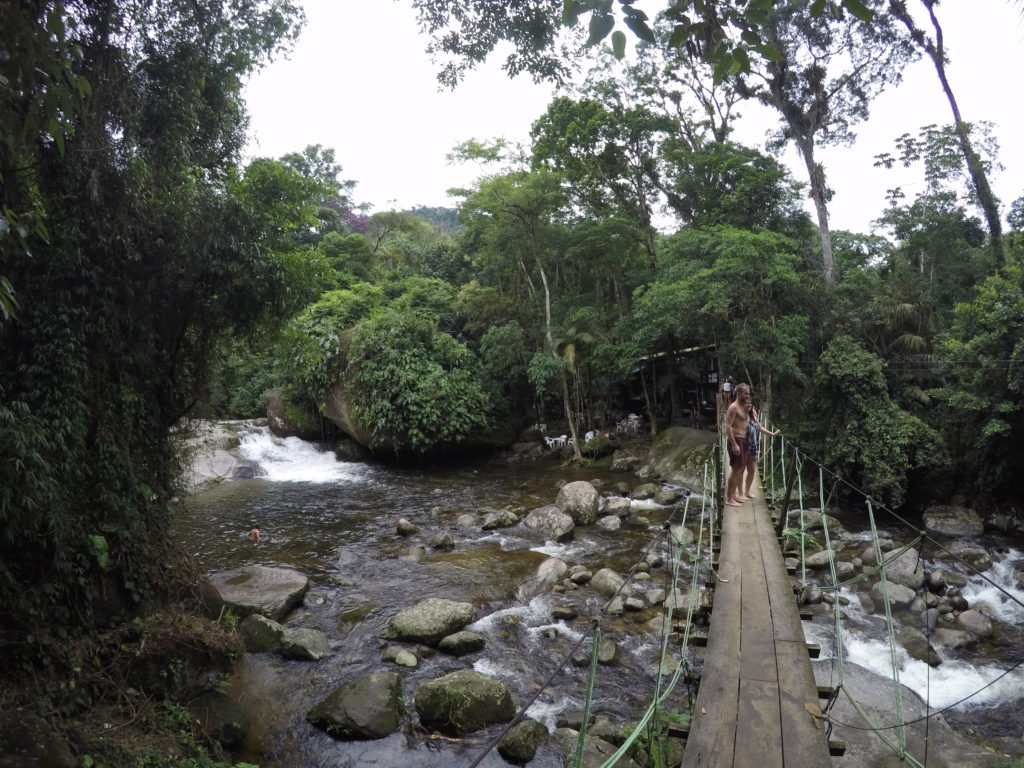 Cross the bridge and climb the big rock. As I am not very comfortable with jumping nor with water, I stayed behind the camera. The guys said, that it is not easy to climb this stone and worse still is to descend it. That means, if you climb it, YOU WILL HAVE TO JUMP heheh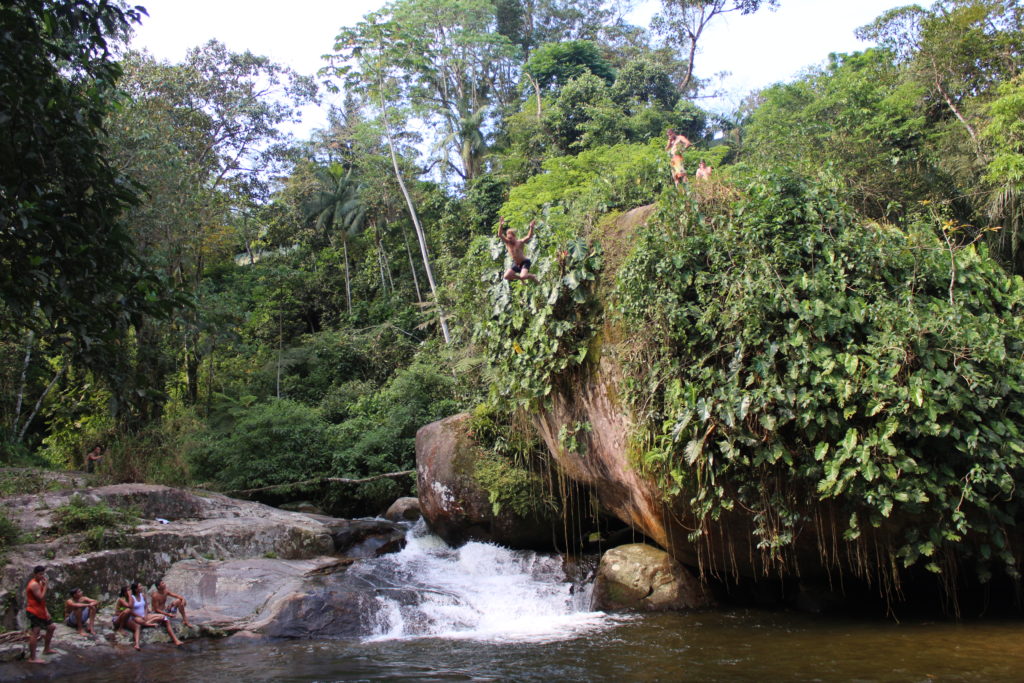 Time to leave Paraty
Our next destination was "Ilha Grande" (you will have a specific post about this paradise, soon enough). Let's now jump into the city of Rio de Janeiro.
Rio de Janeiro – Santa Teresa
This was the first time I stayed in this beloved, historic and bohemian neighborhood called "Santa Teresa".  And to tell the truth: If I'd known it was so beautiful, I would have gone there earlier..
Searching the Internet I found this Pousada da Fernandinha (a place to stay in Santa Teresa). I did not have much information but I wanted to try something new in Rio.
Now you will have this detailed information about this Pousada and with it a lot of reasons to go there.
Vila Nossa – Bed and Breakfast in Santa Teresa – RJ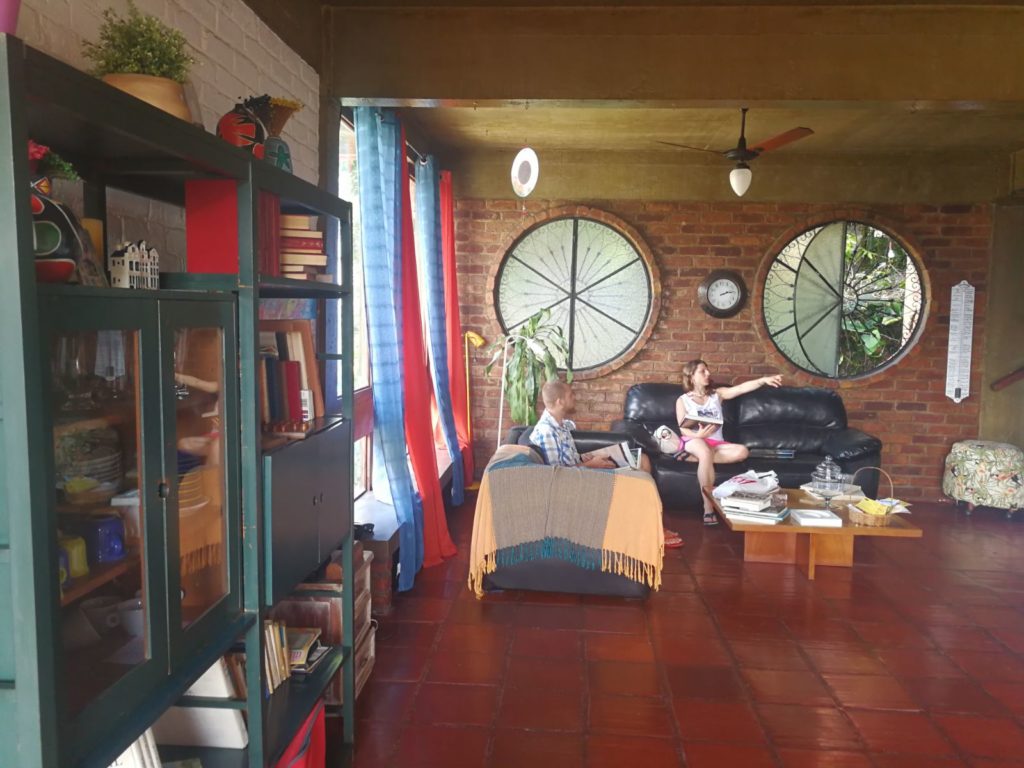 It is a big house in the historic part of Santa Teresa. The entrance is the same as a private house, all closed. Press the bell and enter into another world.
The Address – Ladeira Castro 165 – Santa Teresa. The owner, Fernandinha, is a sweet person, educated, speaks 5 languages ​​and received us so well that we felt at home. The breakfast is spectacularly wonderful. She personally prepares it with fresh fruits from the fair. Be sure to try her homemade yogurt.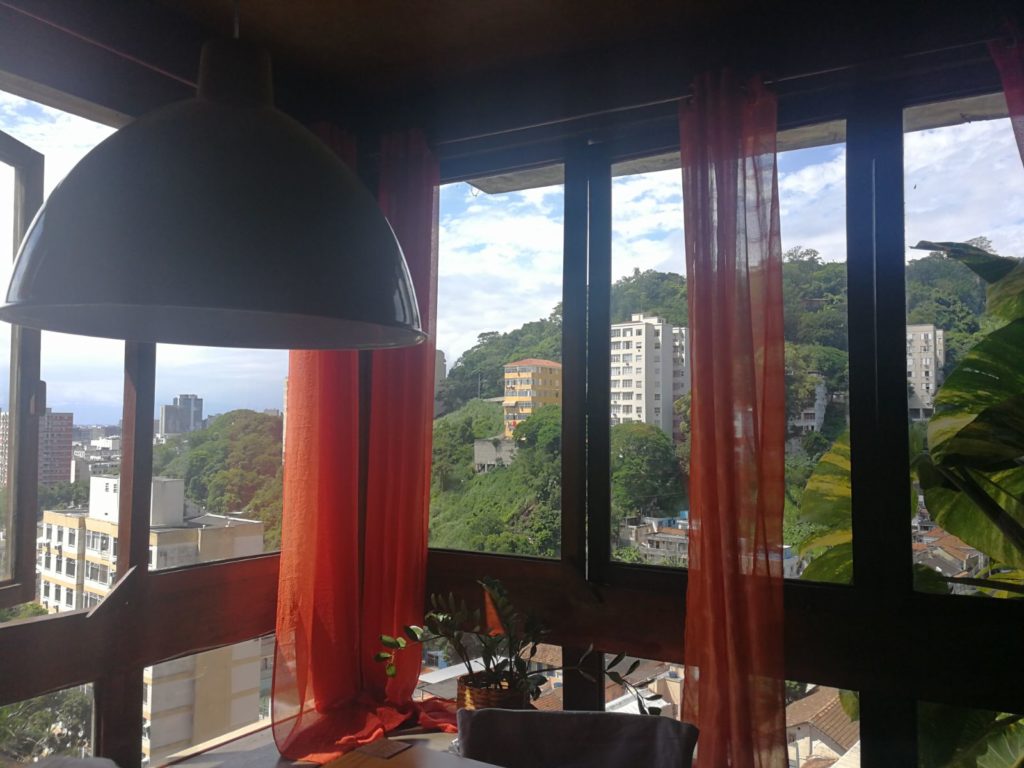 There are few rooms available in the house, however spacious and all appointed by the neighborhoods of Rio (Copacabana, Botafogo and more), some rooms have a balcony with a spectacular view of the neighborhood and distant buildings.

What to do in Santa Teresa?
There is a lot to do in this neighborhood that breathes culture. Just walk through it and you´ll feel it.
Staircase Selarón
The staircase was made by the Chilean painter – Selarón, who, in love with Brazil, paid homage to the country. He started the staircase with green, yellow and blue tiles (the colors of the Brazilian flag). Later he found a shop in Rio that sold tiles from Europe to collectors.
This one is from Switzerland: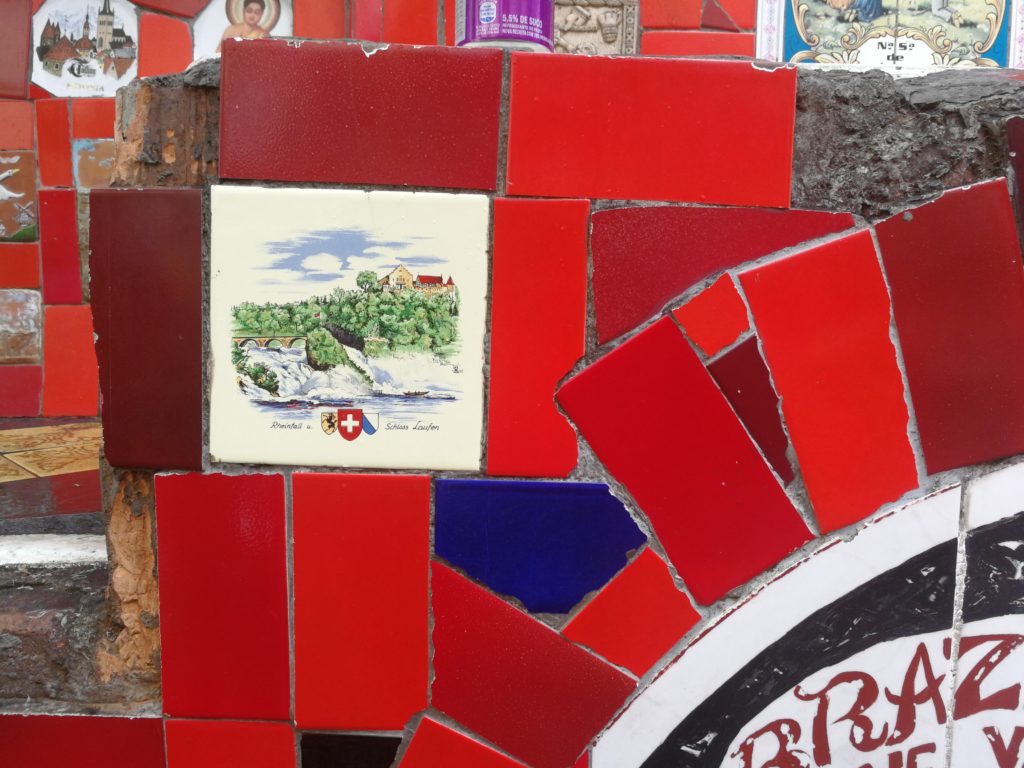 He then decided to buy some and began to build them in, and so the staircase became, little by little a true collection of tiles from all over the world. Nowadays, there are altogether 2,000 different tiles.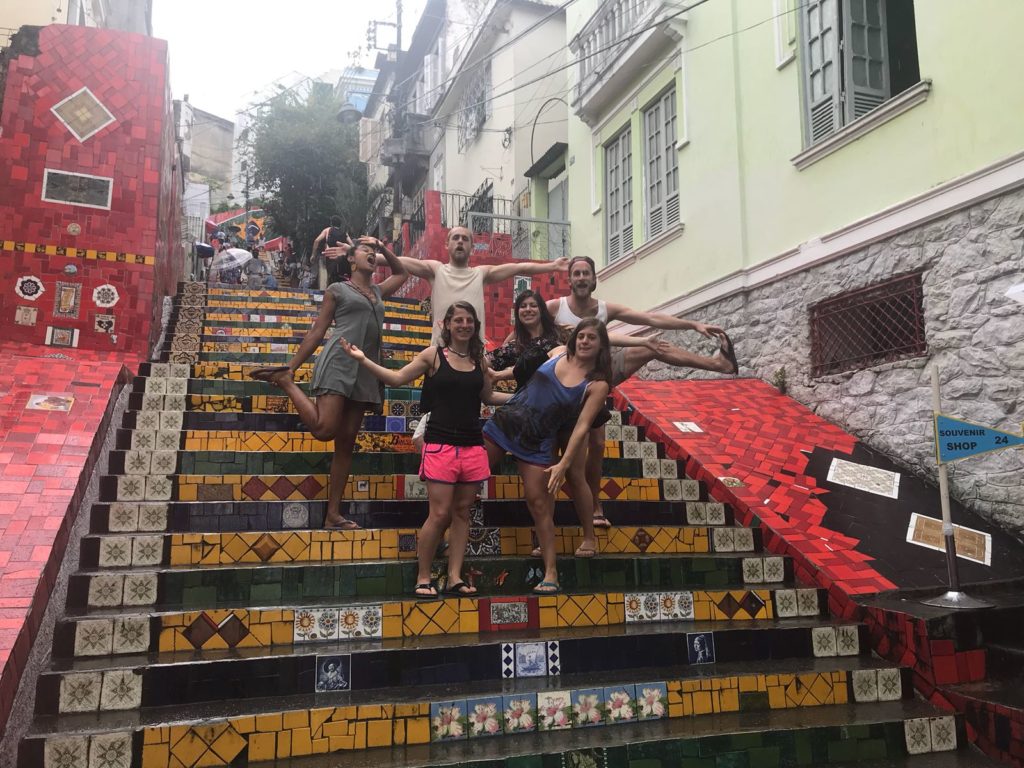 Selarón paints tiles in honor of the people who made history in Brazil, whether they are famous or anonymous.
The staircase has 215 steps.  Incredible isn´t ?
Park of the Ruins
It was a golden era in the neighborhood of Santa Teresa, a stage of artists and intellectuals, led by Laurinda Santos Lobo – one of the most effervescent salons of the Belle epoque in Rio. Planted on a hill, overlooking the whole city, there is the house or what´s left of it.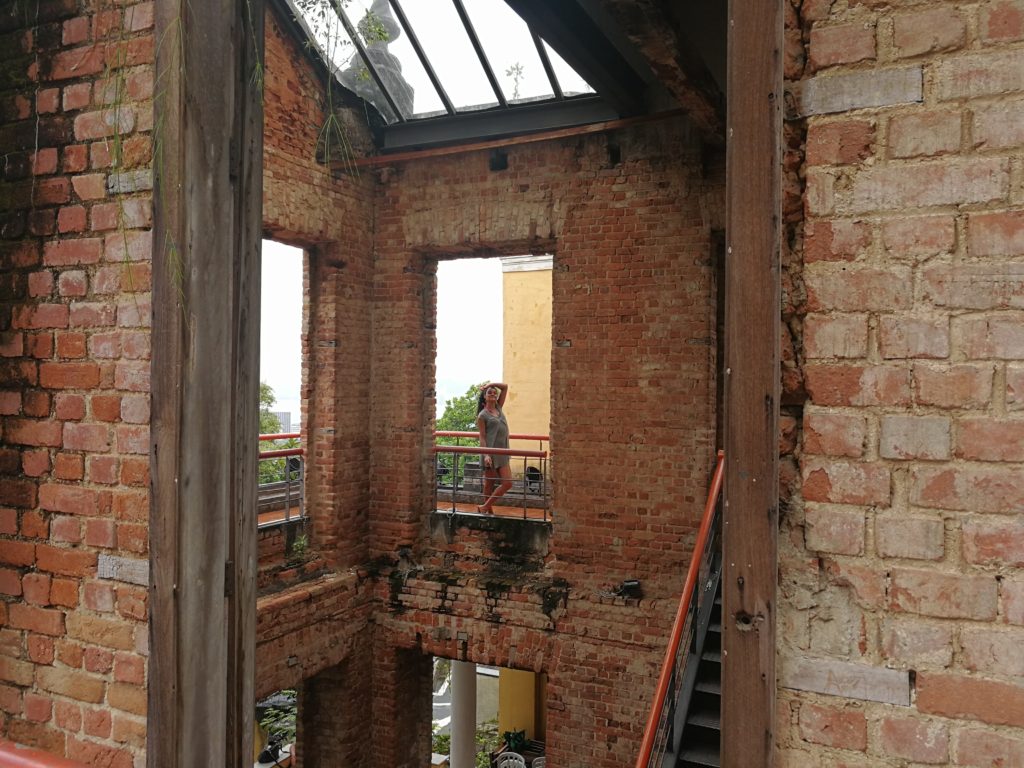 The view is beautiful (almost 360°) and the lounge is a great alternative to make beautiful photos.
Track to the statue of Christ
Our plan was the statue of Christ in the morning and the sugar loaf in the afternoon.
As it wasn´t our first or second time to see the "Cristo Redentor", we decided to do something different: HIKING.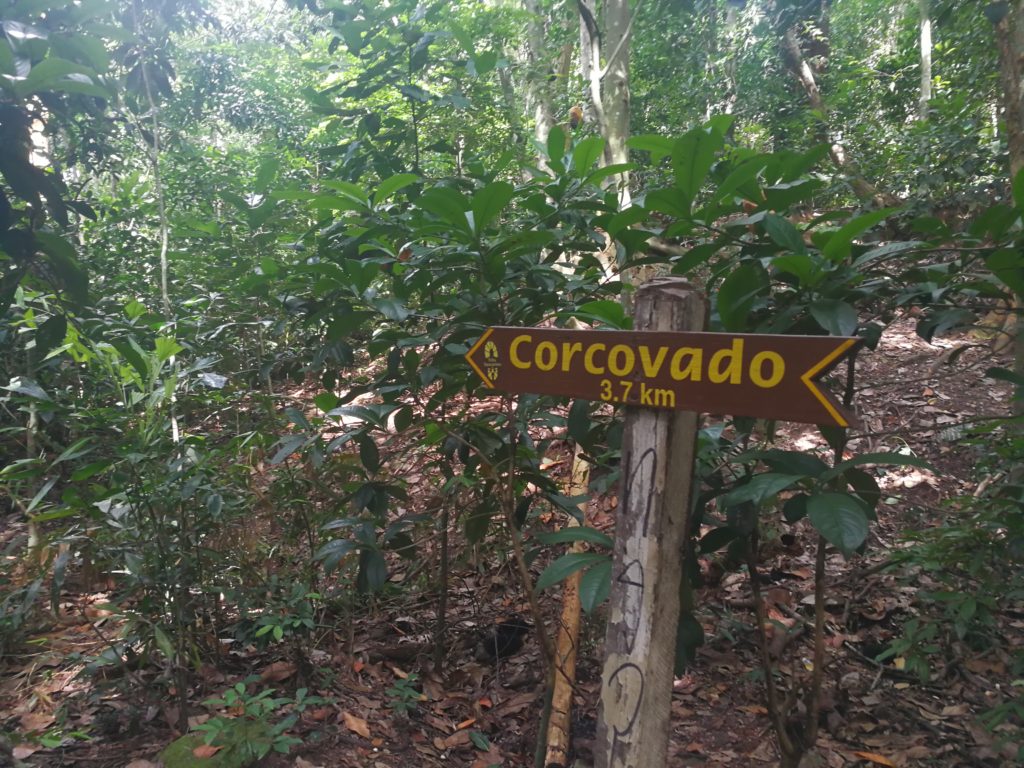 Yes, there is a path that leads you to the statue of Christ. The difficulty level is heavy. You need to be in good physical condition to climb successfully. Not forgetting the good shoes, water to hydrate and some fruit or something small to eat.
The trail
The trail starts at Parque Lage (this park is sensational, worth visiting because it is pure nature in the middle of the city of Rio de Janeiro).
It´s obligatory to register your ascent with the guard in this little house, which is the entrance of the trail.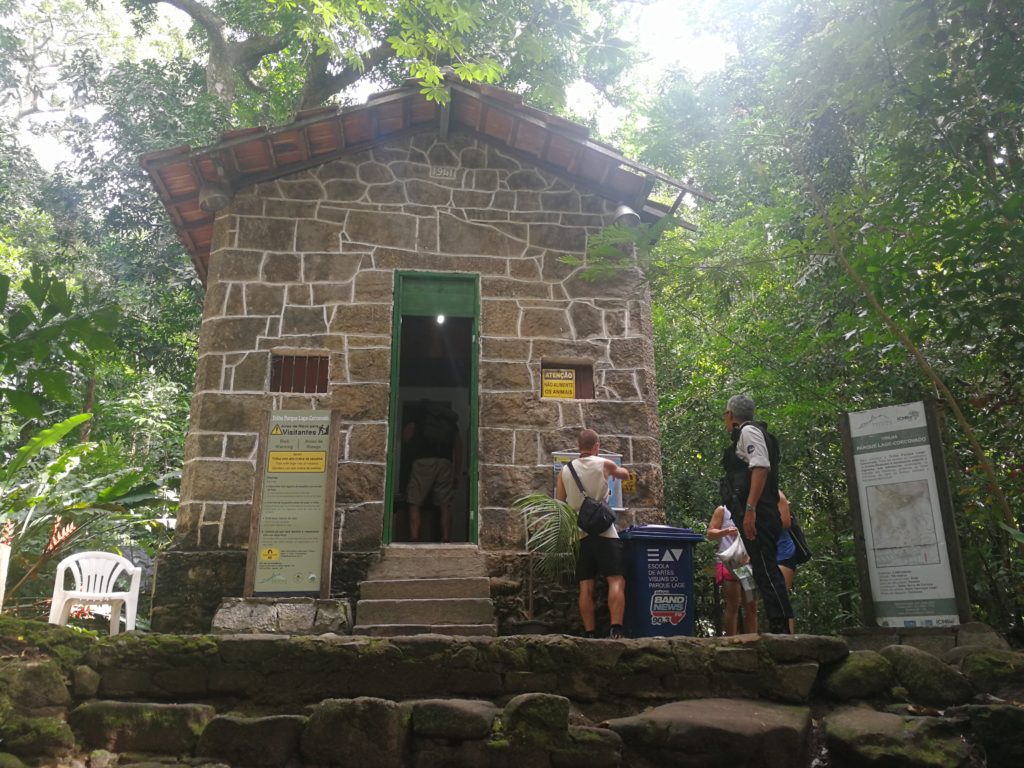 With a duration of 2h30, the trail has many climbs which are long and steep. On the way there are 3 points of little waterfalls.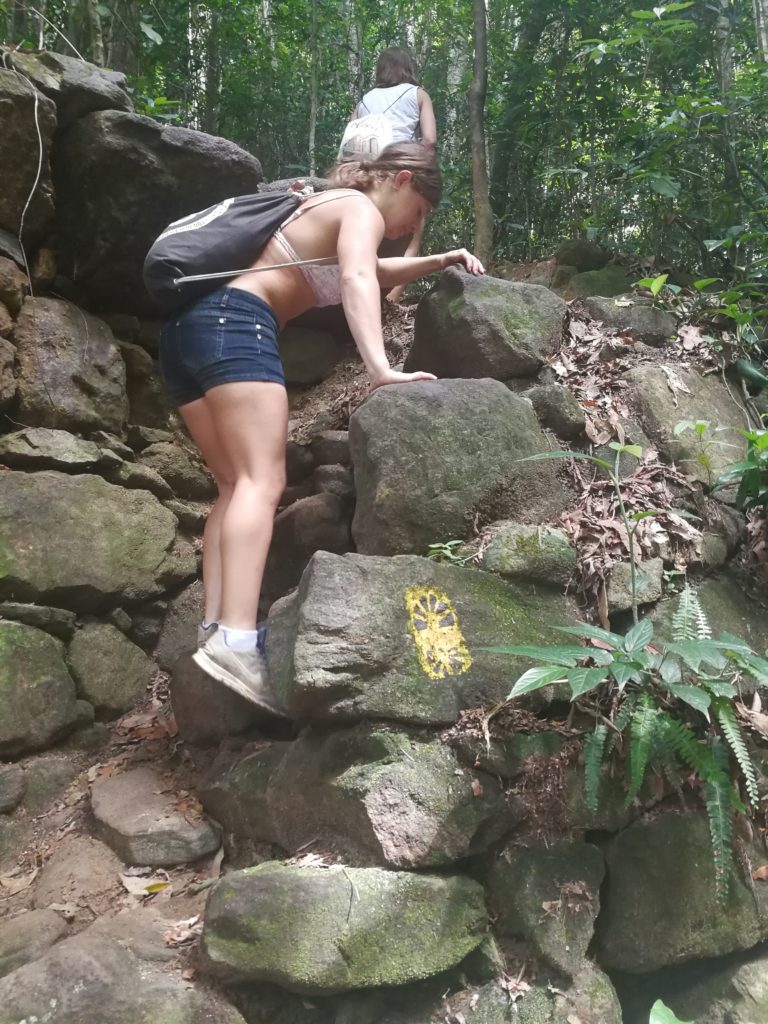 The whole trail is in the woods. There is a part where you will need to climb a rock, but they made steps of iron and a chain to facilitate the ascent. These items helped a lot to climb safely.
On the top
Arriving at the "Cristo Redentor", we paid 13 reais to enter the monument , as it was on a Monday which is the half price day.
The view is good and even better after that hard walk.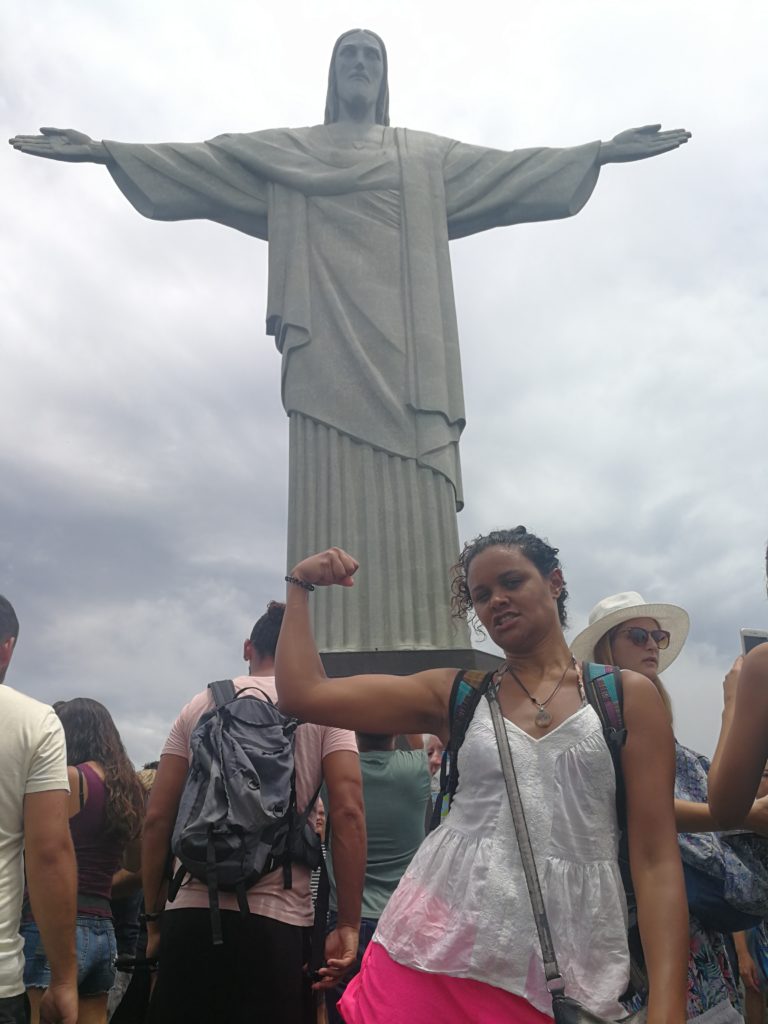 Now there is a important information for all hikers: There is no way to buy a bus ticket for your return. So you can either go down by cable railway (which is really expensive) or walk down to the middle checkpoint where you take a taxi/uber that will bring you down to the city.
Sugar Loaf
This was the first time I was on sugar loaf at night. We were at least 3 hours up there to wait for dawn. It was a rainy day, but we decided to stay on top anyway. ​ Our plan was to see the sunset over this wonderful city from one of the most famous spots in the world.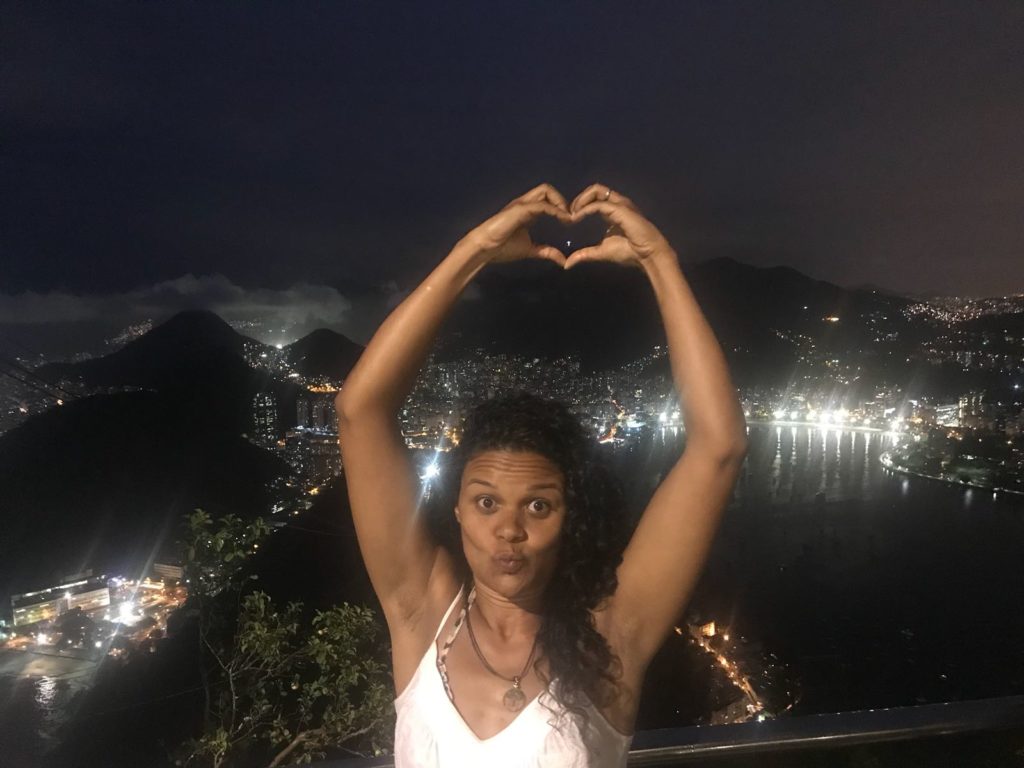 Simon filmed as the fog passed and opened the view of the statue of Christ. Due to the bad weather there was no sunset at all, but nevertheless an unforgettable experience. Try it, it will be worth seeing this wonderful city all lit up by night.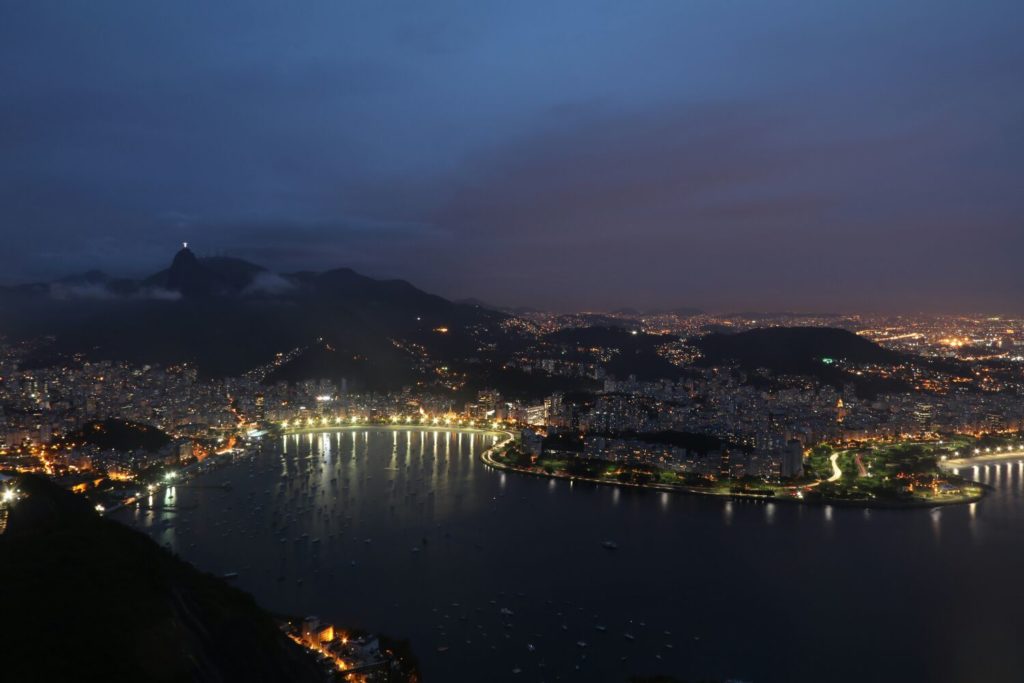 If you want more information or if you´ve got doubts, leave a message in the comments and I will write you back.
Thank you for joining us in this first post about «Esterzinha no Brasil 2018»
Until the next one. Big kiss
See the video here of all these attractions that I´ve described above: